Economy
Fico: Foreign Firms Should Say Clearly If They've Encountered Corruption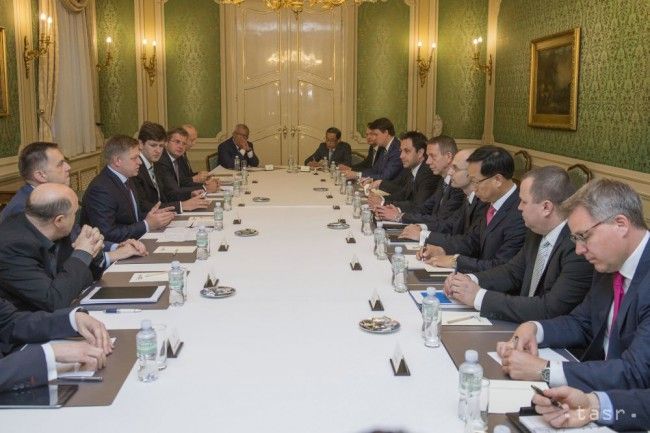 Bratislava, May 22 (TASR) – Large foreign businesses should make it clear whether or not they've encountered corruption or non-transparent practices while operating in Slovakia, said Prime Minister Robert Fico after receiving key investors at the Government Office in Bratislava on Monday.
Turning to Slovakia's future and its position in the European Union, the premier said that competitiveness is one of the key factors determining a country's success.
"This is why we've decided to launch a series of discussions with leading representatives of the Slovak business sector, as well as the main foreign investors," said Fico.
The meeting featured representatives of 14 foreign enterprises operating in Slovakia, including all four carmakers. Also present were Finance Minister Peter Kazimir, Economy Minister Peter Ziga, general director of the Slovak Investment and Trade Development Agency (SARIO) Robert Simoncic and head of the Labour, Social Affairs and the Family Centre (UPSVaR) Marian Valentovic.
Fico said that the participants agreed that there's a shortage of 40-50,000 qualified people on the jobs market. This results in pressure from employers on the Government to permit the hiring of foreign workers.
"Above all, we're looking to concentrate on dual education, workforce mobility, which is very low in Slovakia these days, and on issues that concern housing for employees and new ways of employing people," said the premier.
Fico added that, rather than quantity, the Government gives more weight to the quality of inbound investments. It expects companies to present proposals on how to ensure maximum available support for research and development (R&D).
Besides the availability of a variety of EU funds, the Government offers tax deductions vis-a-vis R&D investments to the effect that each euro invested in research reduces tax payments by two euros, said Fico.
Also discussed was the transparency of procedures faced by investors, with Fico noting that permit procedures involve meetings that bring together investors and representatives of the Government and municipalities.
"I made a clear request to the representatives of foreign investors to say if they've ever come across behaviour that can be considered corrupt or non-transparent. Not a single one of them indicated that they've ever encountered a situation warranting such a description," said Fico.
"At the same time I expect investors who never report such a case to make it clear that, during their business operations in Slovakia, they've never encountered such behaviour," said the premier.
Calling the meeting constructive, Volkswagen Slovakia board chairman Ralf Sacht said that the Government is indeed committed to holding talks with investors, which is evidenced by plans for further meetings. The topics under discussion on Monday included the building of infrastructure, he said.