Economy
First Trams Cross Bratislava's Old Bridge as Part of Safety Tests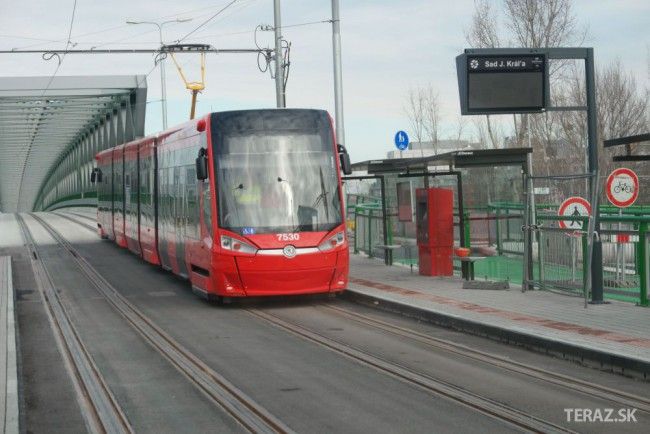 Bratislava, February 16, (TASR) – Two trams crossed Bratislava's Old Bridge on Tuesday morning for the first time since the bridge's reconstruction as part of technical-safety tests carried out by public city transport company Dopravny Podnik Bratislava (DPB) on the route between Safarik Square and the borough of Petrzalka. 
The tests proved that the line is in order. "They confirmed the ability of the line to operate trams and its accordance with the projected parameters," TASR learnt from City of Bratislava spokesperson Ivana Skokanova. She said that the tests are a part of the final inspection process and so the city is still unable to specify when trams will begin travelling over the bridge on a regular basis.
The final inspection of the Old Bridge and premises in the Old Town and Petrzalka started in the second half of January. The final inspection should apply to over 100 elements, including the bridge's lighting. The city council warned that the bridge will be viewed as a construction until the final inspection is completed, meaning that free movement is prohibited.
The Slovak capital took over the structure from the contractor on December 16, 2015. Bratislava mayor Ivo Nesrovnal claimed at that time that if the public sees workers on the Old Bridge or in its vicinity, this doesn't concern the completion of construction work but the removal of defects. He stressed that the contractor is removing them at its own cost.
A consortium of three firms led by Eurovia SK carried out the project for €58.8 million (excluding VAT). As much as 85 percent of the project's costs was financed from European funds, while the state contributed 10 percent and the city 5 percent. The European Union will only cover expenditures arising before December 31, 2015. Katarina Kohutikova of the city's communications and marketing department told TASR that the project must be put in operation by March 31, 2017 at the latest.