Foreign Policies
Kiska: Thousands of Jobs Created in Kenya Due to Slovak Aid Projects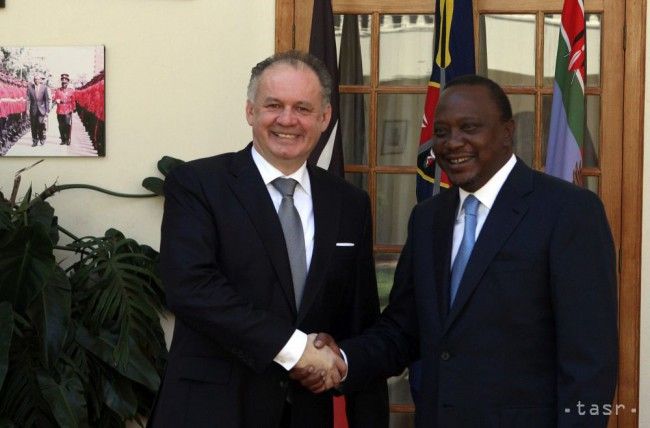 Nairobi/Bratislava, February 13 (TASR) – Over 100 development assistance projects have come into existence since Slovakia began to provide aid to Kenya [in 2004], said Slovak President Andrej Kiska after meeting Kenyan President Uhuru Kenyatta and members of the country's Government in Nairobi on Monday.
"Several hundred [Slovak] volunteers have worked here. Slovak projects have resulted in several thousand new jobs, and tens of thousands of farmers have had work to do as a result, and – much to my surprise – over 200,000 trees have been planted here thanks to Slovakia and Slovak projects," said Kiska.
Slovakia's aid to Kenya has amounted to more than €10 million over the past 12 years. The Slovak third sector was working in the country even before Slovak government assistance began. Kenya tops the list of countries on the receiving end of Slovak aid.
"Kenya as such is a highly stable pillar of this part of Africa. It acts as a partner in the international fight against terrorism. Nairobi is home to many international institutions. Kenya is a pivot of economic development and, besides providing us with flowers, seafood and tea, somewhat surprisingly for me, it can also be a source of inspiration for Slovakia," said Kiska.
Kiska and Kenyatta concurred that bilateral ties are based on exchanges of experience rather than on Slovakia's counselling the country. "As many as 85 percent of people have access to the internet, and mobile banking here is perhaps the best in the world. This country is developing … and dynamic development lies ahead for it," said Kiska during his first official visit to the country. He went on to praise Kenya for being a stable partner for Slovakia and the EU.
Kiska's talks with Kenyatta centred on trade, investment, the economy, education, job creation, health care and the fight against terrorism.
Kenyatta said that he's pleased with Kiska's visit, adding that he believes that it will bolster bilateral ties. He went on to remark that Kenya was among the first countries to recognise Slovakia as an independent state in 1993.
Kiska also went on a tour of the United Nations Office at Nairobi (UNON), accompanied by its Director-General Sahle-Work Zewde.
Having planted a tree in UNON's grounds, the Slovak president set off for a tour of a local tea farm. A state banquet will be held in honour of his visit later in the evening.