Foreign Policies
Lajcak: Extremism Needs to Be Fought with Prevention and Education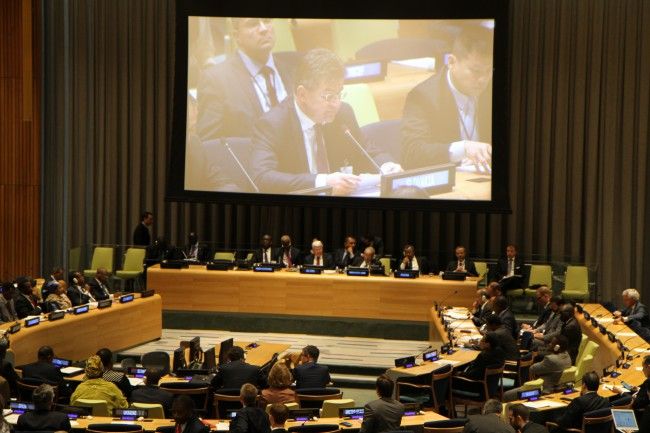 New York/Bratislava, September 24 (TASR) – Violent extremism and xenophobia are in a direct contradiction to all principles of the United Nations and they represent a threat not only to individual societies and states but also to the whole international community, said Slovak Foreign and European Affairs Minister Miroslav Lajcak at a ministerial session of the UN Alliance of Civilisations' Group of Friends in New York on Friday.
The session, attended by foreign affairs ministers, was dedicated to the increasing xenophobia and hatred in various parts of the world due to ethnic, religious and political conflicts.
Lajcak in his speech focused on the issue of prevention of radicalisation among young people. "It's alarming how the trend of radicalisation of the youth grows. It results in tragedies of unprecedented scope. However, people are not born extremists, they become them. That's why we have to examine why this is happening," stressed Lajcak, adding that extremism is being fed by global propaganda that reaches young people via modern technologies and social media.
"Change of social and family structures, lacking the feeling of safety and justice, weak integration, lack of opportunities and the absence of good prospects for the future – these are all a breeding ground for extremism," said the foreign affairs minister, outlining the possibilities for tackling radicalisation.
"We are in need of closer cooperation in areas of education, science, culture, communication, civil society and business. We have to teach the youth how to defy the extremist propaganda and how to reject it. The most effective tool is prevention in form of education. Young people shouldn't be taught only how to read and write but we also need to inoculate them with sense of values, respect for other cultures and for diversity," noted Lajcak.
During his visit to New York Lajcak also attended a traditional Transatlantic dinner for EU and NATO foreign affairs minister organised by US Secretary of State John Kerry. Lajcak on behalf of Slovakia confirmed the importance we ascribe to the transatlantic cooperation. "Although there might be a feeling on both sides of the Atlantic that we are mired in various crises – from the migration crisis, through economic problems, to increasing populism and extremism, we mustn't forget how much harder it would've been to cope with them without this unique partnership between Europe and the USA," said Lajcak.