Economy
Matecna: Retail Chains Recognise High Quality of Slovak Foodstuffs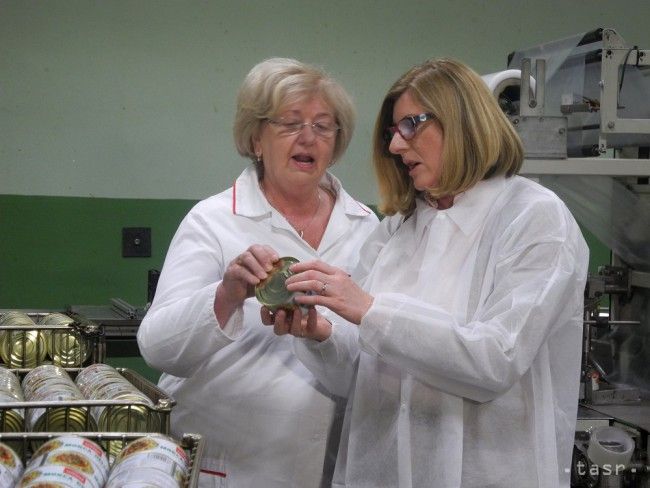 Poprad, June 16 (TASR) – Retail chains recognise that Slovak foodstuffs are coming into fashion, not because of their Slovak origin, but because of their high quality, said Agriculture and Rural Development Minister Gabriela Matecna (a Slovak National Party/SNS nominee) after visiting the production premises of Tatrakon cannery based in Poprad (Presov region) on Friday.
Tatrakon annually manufactures over 3,540 tonnes of canned and 318 tonnes of other processed products.
Matecna noted that Tatrakon is one of only a few Slovak food producers that makes canned food. "Concerning canned meat, this is probably the sole company left in Slovakia and, therefore, it's important to show that we're able to process what we produce in Slovakia," stressed the minister.
The minister pointed to the fact that the firm has been based in Poprad since 1930. "Over 75 percent of the ingredients in almost all of their products are of Slovak origin. The aim is for these products to be innovative, and they don't contain modified starches," emphasised the minister.
Matecna sees the problem in Slovakia in the fact that many companies aren't passed on down the generations. "The children of the Tatrakon owners want to keep the business running, which is positive. It's a Slovak company employing 160 people, so I'm glad that a company like this is still operating in the area and making a profit," she said.
The minister added that the company intends to expand, as confirmed by Tatrakon general director Katarina Kacvinska. "We've been fine-tuning our production for several years to fit EU standards since Slovakia joined the EU. Our ambition is to build a new factory. We've bought a plot of land in the Poprad-Matejovce industrial zone [for a sum] that we are paying off," said Kacvinska, adding that the current production capacities of the company are limited.
The Poprad company recently agreed on cooperation with a new retail chain. "It's a double-edged sword: supplying products to this retail chain, trading with them, being on the market when the added value for the supplier is very low," stated Matecna.