Economy
Official Construction of Jaguar Land Rover's Plant Begins in Nitra Today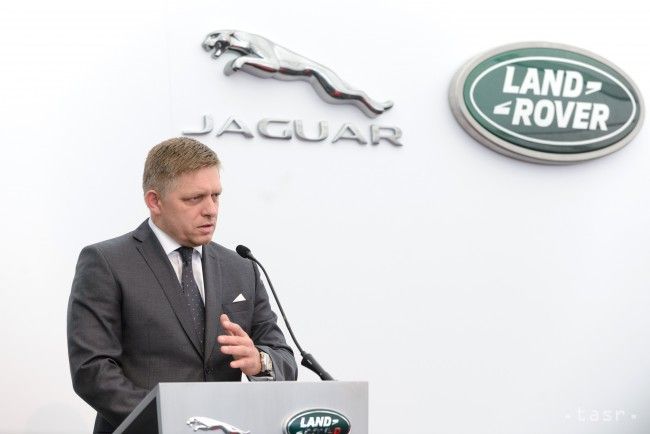 Nitra, September 13 (TASR) – With unveiling of the cornerstone in Nitra on Tuesday has begun the official construction of the new plant of British carmaker Jaguar Land Rover, TASR learnt on the same day. Prime Minister Robert Fico was present at the event.
According to the representatives of the company, the total investment in the first phase exceeds €1.4 billion through which the company wants to create 2,800 new jobs. According to the company's operative director Alexander Wortberg, the first production operators should be hired at the turn of 2017/18 and first cars should roll off the production lines in the second half of 2018.
Wortberg noted that the Nitra plant will be one of the most modern in terms of automotive industry.
"This is our first plant in the continental Europe, and Europe itself is an important market for us. Slovakia is situated in its heart, and therefore the location in Nitra is extremely useful. There is an excellent infrastructure and many of our suppliers are also close by," said Jaguar Land Rover CEO Ralph Speth. "People in Slovakia can be sure that our partnership and our commitments are serious and the future is bright."
Fico sees the arrival of Jaguar to Slovakia as a great success. "We had a dream to create a top-notch industrial park that would bring Slovakia to the first world league (in terms of industry). I'm glad that such a world-class strategic park has been constructed in Nitra," said Fico.
"Nowadays, there are 470 hectares of the land prepared, 31 kilometres of road infrastructure, a special railway terminal and flood-protection construction adjustments," added the prime minister, noting that the flood barriers will protect the industrial park and the town of Nitra in the furure.
"I assure the investors that they can rely on us also during the approximately 24-month construction of the plant. I believe that around September 12-13, 2018 at the latest, we will be celebrating the manufacture of the first car," said Fico.
As many as 40,000 people have already applied for a job at the new carmaker. However, the company takes into consideration that not everyone will be eligible to work in the factory. "They must have the appropriate qualification and a certain level of skills. We certainly want to invest in a variety of local projects aimed at training young people in particular," said Wortberg, adding that the company would like to raise a new generation of automotive engineers in Slovakia in due course.