Foreign Policies
Pellegrini and Abe Praise Good Relations and New Bilateral Agreements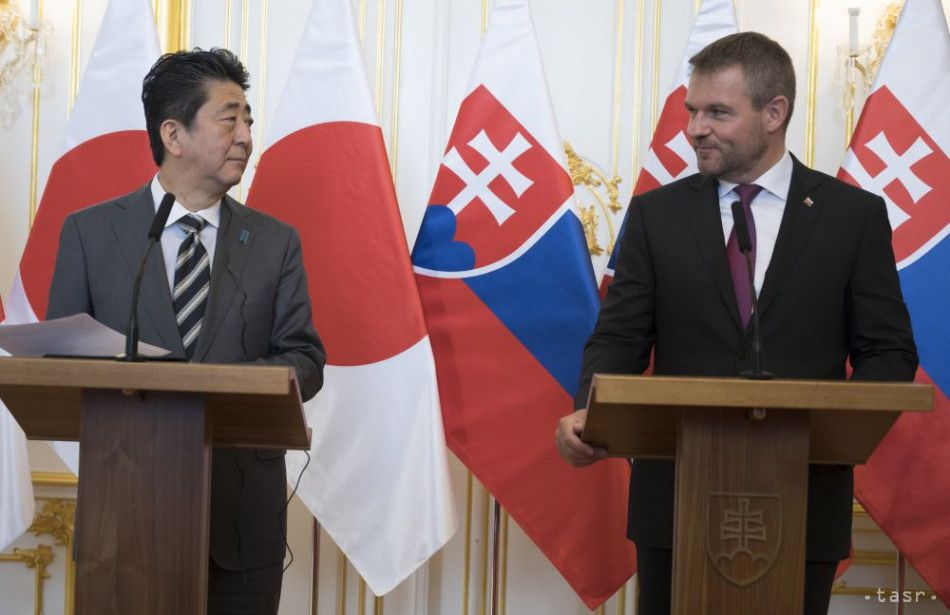 Bratislava, April 25 (TASR) – Investments, bilateral contracts and nearly 100 years of diplomatic relations were the topics of talks between Slovak Prime Minister Peter Pellegrini (Smer-SD) and his Japanese counterpart Shinzo Abe during the first ever visit by a Japanese premier to Slovakia, with the two sides in particular praising a social welfare agreement that will come into force in July, TASR learnt on Thursday.
"Based on this, it will be easier for Japanese people in Slovakia and Slovaks in Japan to work, while retirement insurance will be mutually recognised and retirement pensions will be paid," said Pellegrini. The Japanese prime minister believes that the agreement will reduce the burden on Japanese companies in Slovakia.
Another agreement mentioned was a EU-Japan Economic Partnership Agreement, which came into effect in February of this year. "This agreement could serve as an example of how business relations between the European Union and other countries could look in the future," said the Slovak premier.
Pellegrini praised the fact that Japanese companies in Slovakia invest not only in production, but also in research and development. "The quality of Japanese investments in Slovakia is increasing," he stated. There are more than 60 Japanese companies in Slovakia, employing approximately 13,000 people. Abe added that Slovak security software company Eset invests in Japan.
Also discussed were multilateral relations, especially in the context of the Japanese presidency of the G20 and Slovakia's OSCE and OECD presidencies. The two officials mentioned North Korea, which should also be a topic at a V4 and Japan summit, which will be held at Bratislava Castle on Thursday.
According to Abe, another area covered was culture, especially in the context of the 100th anniversary of the setting up of diplomatic relations between Japan and the then Czechoslovakia. Abe noted that Japan is hosting the Olympic and Paralympic Games in 2020 and the World Expo in 2025. He thanked Slovakia for supporting Japan's candidacy to organise this event.