Video
SEDGWICK: "Diplomatic mission in Slovakia was an amazing experience"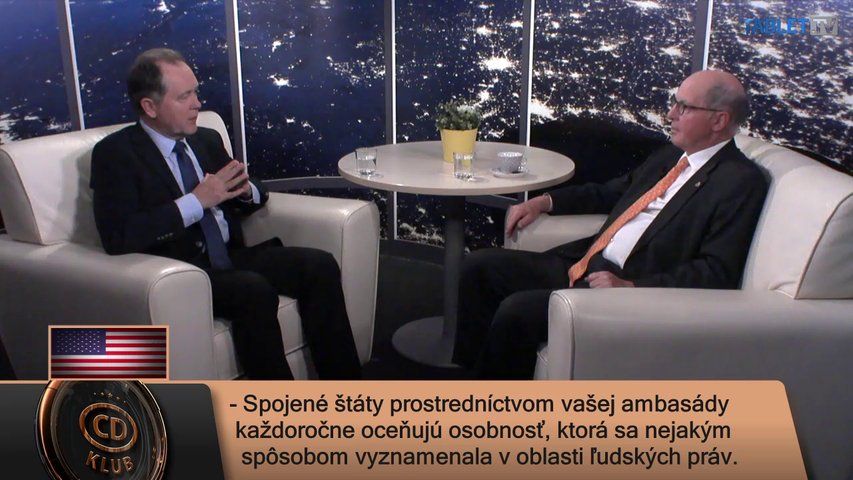 Bratislava, June 29 (TABLET.TV) – Theodore Sedgwick came to the studio of TABLET.TV  to summarize his five years long lasting diplomatic mission in Slovakia, which is the peak of his career so far. In the interview with the moderator Pavol Demes, he evaluates the level of relationships between Slovakia and USA, but they will also mention the Roma issue and coexistence of minorities in Slovakia.
Roma issue reminds him in many ways historical experience from America with inclusion of the African American community into a society. According to him, we should take more responsibility for education of Roma, because he says: "If you give them an opportunity, they will immediately take a chance."
In an area of coping with corruption, Slovakia has made a progress, but there are still a lot of things to be done for getting better, Sedwick supposes. It is mainly about judiciary – people will not believe that the real progress in a corruption has been made until they see the "big fish" into a jail, paying for a corrupting behaviour.
In an interview, they mentioned also growing tendency of antiamericanism in Slovakia in a connection with conflict in Ukraine. Russia by its behaviour towards Ukraine significantly disturbed international law, claims Sedwick, who thinks that lots of people in Slovakia believe to russian propaganda spreaded around Slovakia.
Watch our monthly show CD klub.