Foreign Policies
President Kiska Discusses Austrian-Slovak Ties with Van der Bellen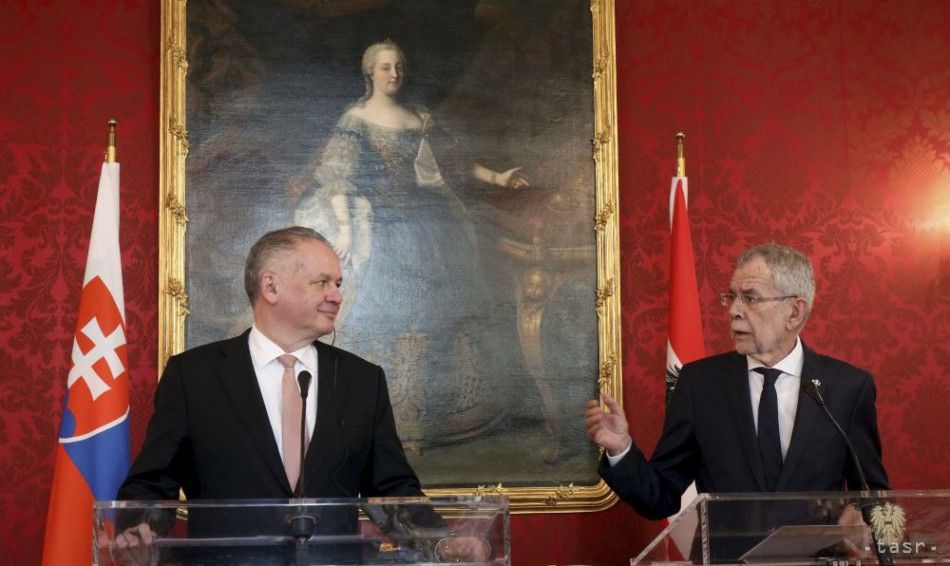 Vienna/Bratislava, February 19 (TASR-correspondent) – Fomenting even closer bilateral ties, the position of the Visegrad Four (V4) group (the Czech Republic, Hungary, Poland and Slovakia), its perception in Austria and Austrian family benefits were issues discussed by Slovak President Andrej Kiska and his Austrian counterpart Alexander Van der Bellen in Vienna on Monday, TASR learnt on the same day.
"Relations between Slovakia and Austria are excellent," stated the Austrian president. "It was difficult to find any issues that could be divisive."
This sentiment was echoed by Kiska, who also broached Austria's perception of the V4. "Personally, I'm sad to see some politicians from the V4 taking advantage of the group to promote their own domestic political views," he declared.
Van der Bellen believes that the V4 is a "rather well-organised group" able to resolve issues on its own.
The presidents also touched on the Austrian Government's plan to cut benefits for the children of foreigners working in Austria when the children live abroad. "In terms of indexing family benefits, we consider it unfair to have people working in Austria and contributing to its social system yet being unable to enjoy the same benefits of that social system," said Kiska.
In this context, the Austrian president praised the important role that Slovak workers play in Austria and pointed out that European legislation must be taken into account on this issue.
Kiska voiced his belief that this point of friction won't damage Austrian-Slovak relations.