Sastin: 40,000 Attend National Our Lady of Seven Sorrows Pilgrimage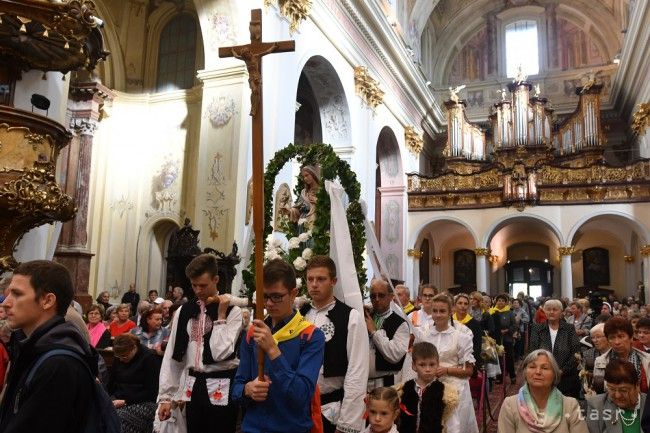 Sastin, September 15 (TASR) – Around 40,000 people, including President Andrej Kiska and Parliamentary Chair Andrej Danko (Slovak National Party/SNS), attended the national pilgrimage to mark the Feast of Our Lady of Seven Sorrows, the patron saint of Slovakia, at Sastin (Trnava region) basilica on Friday.
According to Miroslav Janak, PR manager of the national pilgrimage, around 150 people joined the organisation efforts, with 130 priests attending a ceremonial mass celebrated by Greek Catholic Archbishop of Presov Jan Babjak.
The archbishop in his sermon pointed to the need for parents to make sacrifices and urged them to have more than one or two children.
"The family is the foundation of society. A sound family also keeps society [sound]. I have a motto – 'what doesn't cost us anything, isn't worth anything'. Current families tend to be somewhat egotistical by having only one or two children, but society is dying out in this way. Children were always viewed as a blessing from God by parents, and each child was always received as a big gift from God," said Babjak, adding that strong families with an intense inner life will also make life in Slovakia easier and more beautiful.
"Of course, families need to have a solid backing and work. It's unfortunate to see people leaving for work abroad, with families thus breaking up," said the archbishop.
Speaking about migration, Babjak said that those who come for work and a better life should be accepted, but there's a need to be vigilant in the case of those who come to commit terror attacks.
The national pilgrimage in Sastin has been taking place officially since 1732.