Economy
Transport Minister Taps Foundation Stone of Presov Bypass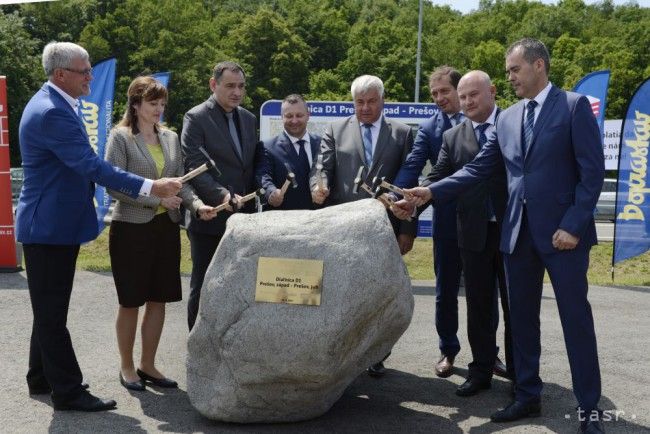 Presov, May 30 (TASR) – By tapping the foundation stone on Tuesday, Transport and Construction Minister Arpad Ersek (Most-Hid) and representatives of the National Highway Company (NDS) symbolically launched the construction of the Presov West-Presov South D1-motorway section, TASR learnt on the same day.
The almost eight-kilometre motorway stretch will be constructed by the D1 Presov Consortium, comprised of Eurovia SK, Eurovia CS, Doprastav, Metrostav and Metrostav Slovakia, for over €356 million. It should be completed in four years, by June 30, 2021, and should significantly cut the time needed to drive to Kosice.
Ersek noted that governments come and go, but the road will remain. "Last time I was here we signed the contract, now we're tapping the [foundation] stone. Cutting the tape should be next. I'm very glad that we're starting to construct this. Presov needs it … and not only Presov, as it's an international corridor," said the transport minister.
Ersek went on to say that launching the construction of the Presov northern bypass via an R4-expressway stretch as soon as possible is among the Government's priorities.
As many as 20,000 vehicles pass through this area every day. The new stretch will divert transit transport away from the city of Presov, and drivers will save some 18 minutes by taking the motorway instead of the old road through the city.
"Some 600-700 people will work here. Step by step we'll begin with preparatory work, archaeological research, access roads, tree cutting and then, when the area is cleared and an EIA [environmental impact assessment] is carried out, we'll fully begin the construction work," said Eurovia SK general director Robert Sinaly.
The new stretch will include 18 bridges, a two-lane tunnel more than two kilometres long, 17 intersections and six kilometres of anti-noise walls. The project will be cofinanced from the EU's Cohesion Fund within the Integrated Infrastructure Operational Programme.