Verkhovna Rada Deputy Chair Kondratiuk Addresses Slovak MPs in Parliament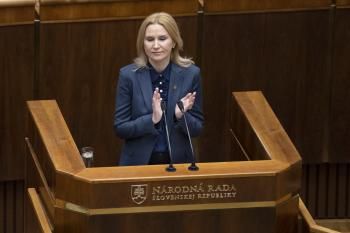 Bratislava, March 29 (TASR) - Taking the floor in the Slovak Parliament on Wednesday, Deputy Chair of the Ukrainian Verkhovna Rada Olena Kondratiuk stated that free nations must make every effort to ensure that the war in Ukraine is the last one.
Kondratiuk opined that the Russian invasion of Ukraine isn't a war over territory, but over values, and it must be ended post-haste, without prolonging or freezing the conflict.
"Free nations must make every effort to make this war the last one and to make the peace after the victory of the forces of good long-lasting and irreversible. We must create a multinational armed force ready to defend any country against attacks on freedom, independence, well-being and the rights of its people," said Kondratiuk .
The aim of the war, according to her, is to destroy democracy based on the right to vote, freedom of speech, freedom of enterprise and public accountability. "We cannot postpone victory over evil until tomorrow," she stressed. The world, she said, must devote all necessary resources to help, especially weapons and technology. Kondratiuk repeatedly urged the world to see the war as the last one, noting that the attack on Ukraine must be stopped, and it must be recognised that the reason for Russia's aggression is a feeling of impunity and the belief that money made from the sale of oil and gas buys Russia the right to kill and rewrite history. At the same time, she remarked that lessons must be learnt from all the mistakes and compromises of the international security system that failed to prevent the Soviet Union's invasion of Czechoslovakia in 1968. In this respect, she said, Slovakia's experience was similar to Ukraine's, as it too lived under the influence of an empire and its people also saw Russian tanks in the streets and fought for independence.
The deputy chair of the Verkhovna Rada noted that Ukraine has drawn up its own peace formula. She thanked Slovakia for supporting it, for recognising Russia as a terrorist state, and for supporting Ukraine's accession to the EU and NATO. According to her, Ukraine is ready for these accessions.
Kondratiuk thanked the Slovak Parliament for the declaration that it adopted in response to the unlawful deportation of women and children to Russia. This declaration condemned the crimes committed against Ukrainian women and children. She called on politicians to join forces for the liberation of children. She added that President of the European Parliament Roberta Metsola and European Commission head Ursula von der Leyen have become ambassadors for the return of Ukrainian children. Kondratiuk invited Slovak President Zuzana Caputova and all Slovak MPs to join this initiative.