Video
WORLD RIGHT NOW: Ivan Vejvoda, IWM's Permanent Fellow hosted by Pavol Demes in Our Studio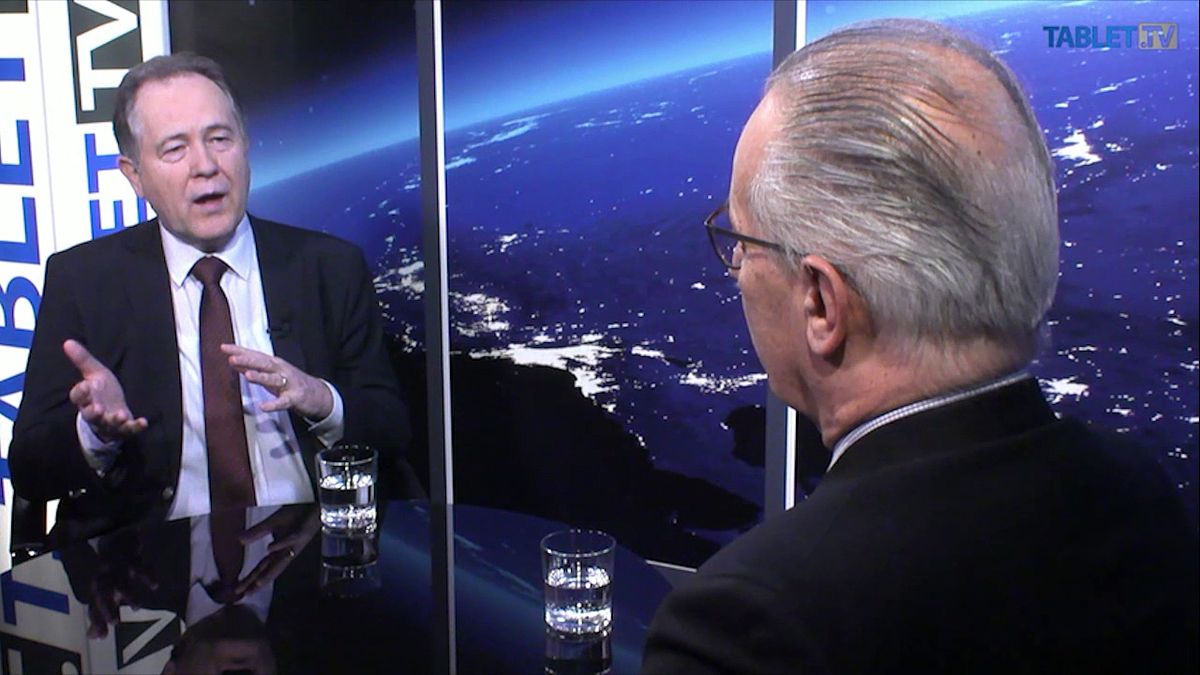 Bratislava, March 22 (TABLET.TV) – Pavol Demes is talking to Ivan Vejvoda, a Permanent Fellow of the Institute for Human Sciences (IWM) in Vienna.
Before joining the IWM as a Permanent Fellow in 2017, Ivan Vejvoda was Senior Vice President for Programs at the German Marshall Fund (GMF) of the United States. From 2003 until 2010, he served as Executive Director of GMF's Balkan Trust for Democracy, a project dedicated to strengthening democratic institutions in South-Eastern Europe. Vejvoda came to GMF in 2003 after distinguished service in the Serbian government as a senior advisor on foreign policy and European integration to Prime Ministers Zoran Djindjic and Zoran Zivkovic. Prior to that, he served as Executive Director of the Belgrade-based Fund for an Open Society from 1998 to 2002. During the mid-1990s, Vejvoda held various academic posts in the United States and the U.K., including at Smith College in Massachusetts and Macalester College in Minnesota, and the University of Sussex in England. Vejvoda was a key figure in the democratic opposition movement in Yugoslavia during the 1990s, and has published widely on the subjects of democratic transition, totalitarianism, and post-war reconstruction in the Balkans. Since 2005 he is a member of ERSTE Foundation's Advisory Board. Furthermore, he is a member of the Serbian PEN Club and is a board member of U.S. social science journals Constellations and Philosophy and Social Criticism. Vejvoda has been awarded the French National Order of Merit in the rank of Officer and the Order of the Italian Star of Solidarity, second rank (Commendatore). He holds a diploma from the Institut d'Etudes Politiques de Paris and completed postgraduate studies in philosophy at Belgrade University. vejvoda@iwm.at
---
The Institute for Human Sciences / Institut für die Wissenschaften vom Menschen (IWM) is an independent institute for advanced study in the humanities and social sciences. Since its foundation in 1982, it has promoted intellectual exchange between East and West, between academia and society, and between a variety of disciplines and schools of thought. In this way, the IWM has become a vibrant center of intellectual life in Vienna.
In the early days, the Institute primarily sought to reintegrate the ideas and experiences of Eastern Europe into Western debates following decades of isolation. This goal remains of crucial importance even more than 25 years after the fall of the Iron Curtain, as old and new boundaries between East and West continue to shape beliefs, attitudes and institutions. Under Shalini Randeria, who took over as IWM Rector in 2015, the Institute is now expanding its geographical purview to include not only Central and Eastern Europe and North America, but also Asia and the Global South.
Looking beyond the confines of the academic world, the Institute is committed to broaching new and often contested topics of societal relevance, thus contributing to debates on a wide range of political, social, economic, and cultural issues. Accordingly, research at the IWM is closely related to the challenges confronting decision-makers and society at large. As a result, the Institute's work has an intellectual as well as a practical dimension: Research activities are designed to provide an impetus for policy-oriented programs and vice versa.
The IWM is an open community of scholars that consists of Permanent Fellows, Visiting Fellows and Junior Visiting Fellows. It hosts about 100 fellows and guests every year, including academics as well as journalists and translators from all over the world. They work on projects of their own choice within the Institute's research focuses.