Culture
Admirers Flock to Celebrate Nosal as Lucnica Doyen Turns 90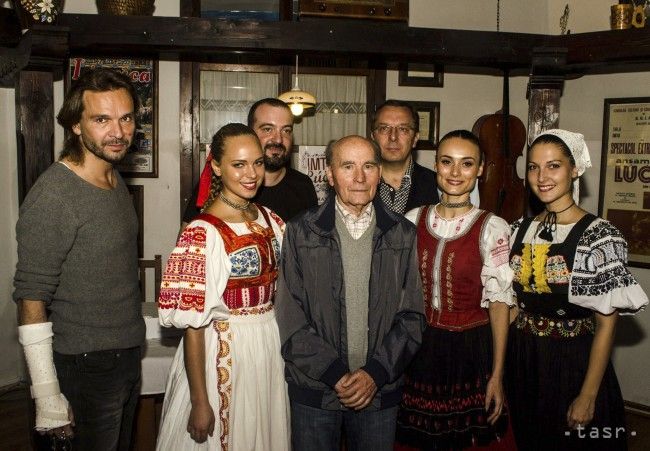 Bratislava, January 20 (TASR) – Professor Stefan Nosal, who devoted his whole professional life to the Lucnica folklore ensemble, celebrates his 90th birthday on Friday.
From as far back as 1951, Nosal has created over 100 dancing compositions and a number of feature, thematic compositions during his prolific career. Lucnica's members were among the first to wish Nosal a happy birthday at noon on Friday. In homage of its doyen, the troupe is now working on a special programme called 'Stefan Nosal 90', which will be shown in the Slovak National Theatre in Bratislava on March 6 and 7.
"It was hard work, but I hung in there, and they're happy about it," Nosal told TASR, going on to reminisce about his father. "He lived through it in full bloom, he was a very wise man and had the mettle to send me to my studies. I was the only person in Hrinova to get a university degree. But my roots are in Podpolanie in the Detva area [both Banska Bystrica region], and I keep thinking about it, both about the good and the bad," said Nosal. "Everybody perks up at our performances, they rejoice, and this is fine, because there's not that much to be cheerful about in Slovakia," said the artist.
Lucnica's general director Marian Turner recognised Nosal's lasting legacy. "To me, he [Nosal] is a person who created Slovak national culture. He's a man who elevated national arts on stage to such a form that it gained acceptance not only in Slovakia, but worldwide. The professor is the key person for Lucnica, he's our logo in the best sense of the word, he's a man who's created the best choreographies, beautiful dances, and who's made it possible for Slovakia to showcase its culture on international stages. He's a one-of-a-kind and priceless person," said Turner.
Director and choreographer Jan Durovcik, himself one of Slovakia's greats and Nosal's student, also came to congratulate and praise Nosal. "He's been by my side for years, and there's no other way to put it to but that I was lucky to walk by his side. He's a constant source of inspiration, and I cannot thank him enough for his grace, for his continued visits to my performances and input. I was blessed to meet this genius," said Durovcik, recognising Nosal as one of his teachers alongside the late Jozef Bednarik.
Born in Hrinova on January 20, 1927, Nosal received a degree in civil engineering in Bratislava in 1953 before going on to study dance choreography. A Lucnica dancer since 1949, he was appointed as the ensemble's artistic director and choreographer a mere two years later. The nearly 70 years that Nosal has led Lucnica artistically is viewed as a unique feat worldwide. Lucnica started off as a troupe of young enthusiasts from the Zivena society in 1948.