Domestic Policies
Covered Eyes of Popular Statues Point out Unhappy Changes in UPN Act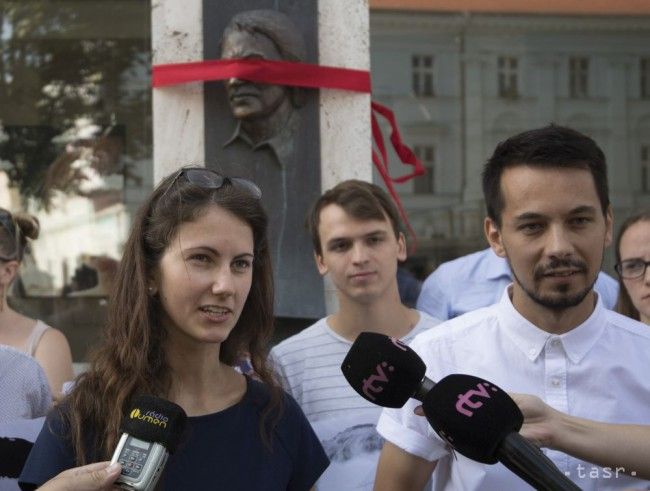 Bratislava, August 18 (TASR) – The eyes of some sculptures and statues in Bratislava belonging to famous Slovak personalities are these days being covered with a red ribbon that includes an inscription reading '#pamataj' (remember), TASR learnt on Friday.
Partly through this action the Pamataj civil association, which is made up of young people and students, wants to draw attention to an amendment to the law on The Nation's Memory Institute (UPN) as well as to remind people that the history of the nation as well as its victims have to be remembered, stated representatives of the initiative at a press conference that took place in front of the statue of UPN founder Jan Langos at the SNP Square in Bratislava earlier in the day.
Statues whose eyes were covered include Langos's memorial sculpture as well as the sculptures of Slovak writer Pavol Orszagh Hviezdoslav, first codifier of the Slovak language Anton Bernolak, actor Julius Satinsky as well as the statue of Napoleon's army soldier at Bratislava's Main Square and the famous Man at Work sculpture known as Cumil.
"An amendment to the law on UPN is currently being discussed in Parliament. With the way it's written, it attempts to curb the work of the institute, politicise it in a certain way and introduce a collective management there," said member of the civil association Juraj Seliga.
He went on to say that if the amendment in question is passed, the range of activities currently performed by UPN will be narrowed, including the organisation of various educational and cultural activities. "It will curb, for example, the Freedom Festival that is organised by the institute, it could lead to the shutting down of the Communist Crimes Museum and halt many other activities carried out by UPN at the moment," added Seliga.
Representatives of the Pamataj initiative have, instead of the hot-headed amendment, called for a wide professional and social debate. "We want lawyers, historians, political scientists, sociologists and, last but not least, politicians to think about what the institute has been doing over the past 15 years, how to improve it and how to help it in revealing periods of oppression," said Seliga, adding that the initiative also wants to show that young people do care about their own history and that the nation has to cope with it especially in the times of spreading extremism. "UPN is a great tool and institution that is helping in that," he said.
The draft law on UPN was submitted to Parliament by the following MPs: Jaroslav Paska (Slovak National Party/SNS), Maria Janikova (Smer-SD), Edita Pfundtner (Most-Hid), Lubomir Zeliezka (Smer-SD) and Martina Simkovicova (independent).
[UPN is a public institution that, among other things, documents the crimes committed under the wartime Slovak state and the communist period – ed note].