Domestic Policies
Elected Governors Name Reasons for Victory and Outline Plans for Period Ahead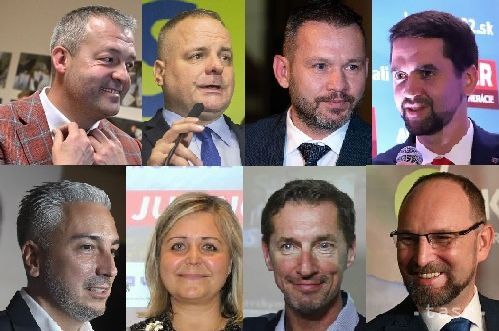 Bratislava, October 30 (TASR) – Speaking at a press conference after more than half of all the ballot papers were counted on election night, now officially re-elected Bratislava region governor Juraj Droba stated that he found the results surprising and declared himself the winner.
"The last five years have been a success story for Bratislava region," stated Droba, who lauded the work of the region's employees. He thanked the SaS party for its support and also praised his cooperation with the Progressive Slovakia party and Team Bratislava.
Re-elected Kosice region governor Rastislav Trnka stated on election night that he sees garnering more than half of the votes as a strong mandate for the future. "I really do accept it with great gratitude and humility, and that's the way I'll try to handle my mandate. As it will be a strong mandate, we'll also try to implement the potent projects and visions that we spoke about during the campaign," he stated. According to him, it was his and his team's achievements combined with visions and plans for the future that decided the election.
Meanwhile, new governor of Nitra region Branislav Becik stated that the election results showed that people living in the region demanded a change. "I'm ready to work for Nitra region and its development from the very first moment. The region has been stagnant for many years, and I want to develop it for the benefit of people. My first step will be an audit of individual departments at Nitra region office, but I'm certainly not planning any sweeping changes at the office," claimed Becik. At the same time, the new governor thanked his predecessor Milan Belica. "I respect him immensely, he was my professor. But it's also important to remember that Nitra region has been evaluated as the least trustworthy region several times in a row, and I want to change that," he added.
Also addressing the public on election night was new Banska Bystrica region governor Ondrej Lunter, who said that he triumphed thanks to a positive campaign and a programme of cooperation. Lunter vowed to continue developing roads, modernising the education system, obtaining EU funds and carrying out further projects. Ex-premier and head of the extra-parliamentary Voice-SD party Peter Pellegrini visited Lunter on election night to congratulate him personally, as his party supported him as an independent candidate. Lunter is set to replace in office his father Jan, who's served as Banska Bystrica governor since 2017.
Jozef Viskupic, who's managed to defend his post of Trnava region governor, commented on the preliminary results that it was the results of his and his team's tenure until now that decided the elections. Claiming that he wants to continue projects that are already in place, the governor remarked that he's ready to tackle difficult times marked by the energy crisis.
Another governor to defend her post was Erika Jurinova, who declared that she wants Zilina region to see through projects in progress and deal with the economic crisis so that regional institutions will be operational. Prime Minister Eduard Heger and Finance Minister Igor Matovic (both OLaNO) both came to congratulate Jurinova personally at her election headquarters in Zilina on election night.
As for Trencin region, re-elected governor Jaroslav Baska expressed his appreciation for the fact that he garnered the highest percentage of votes among all elected region governors, namely 67.25 percent. Claiming that the region has projects amounting to more than €120 million in place, Baska said that they must be seen through by the end of next year.
Re-elected Presov region head Milan Majersky also began celebrating victory on election night, vowing to work for all people and to seek cooperation with all elected regional councilors. Interestingly, Majersky's biggest thanks were addressed to his wife Miriam Lexmann, a Slovak MEP. The governor pointed out that the budget of Presov region will have to be approved first, and new projects and visions will depend on its form, as the energy crisis and inflation pose serious problems.