Culture
Faces of 'Three Kosice Martyrs' Reconstructed after 400 Years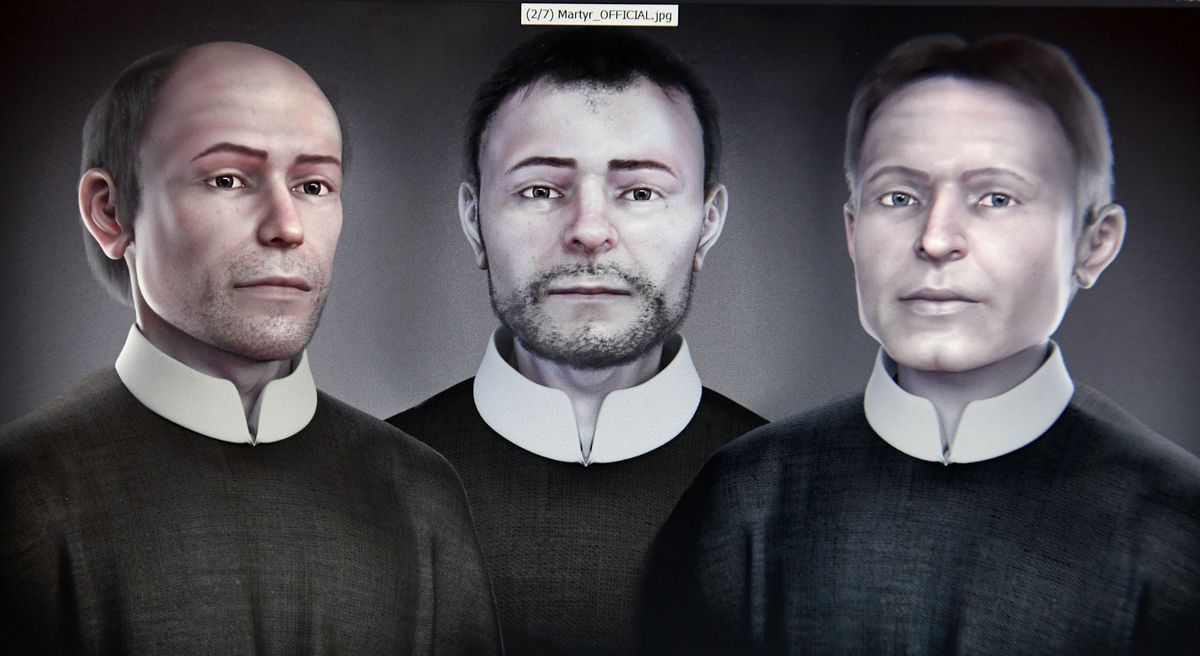 Kosice, May 1 (TASR) – The faces of the Three Kosice Martyrs – Catholic priests Mark Krizin, Melchior Grodziecki and Stephen Pongracz, who were killed during a Protestant upheaval in 1619 – have been reconstructed by an international forensic team to mark the 400th anniversary of their deaths, TASR learnt on Wednesday.

The final facial reconstructions were produced by renowned Brazilian 3D-designer Cicero Moraes, who in the past engaged in a similar effort with Saint Anthony of Padua, for example.
"The appearance of their faces corresponds to reality to a level of 90 percent. The remaining 10 percent is down to hairstyle, hair colour and eye colour, which is information that can't be obtained without pretty complicated DNA analyses," said Czech 3D-scanning expert Jiri Sindelar, who also took part in the project.
The remains of the three martyrs are stored in reliquaries in Trnava and Esztergom, Hungary. The archdiocese of Esztergom at a certain point under the Kingdom of Hungary covered up to 80 percent of Slovakia.
"With Stephen Pongracz, we identified injuries on the left side of the parietal bone, an injury that could have been due to stabbing in the head, and an injury in the neck area. Nevertheless, we didn't clearly identify injuries to any of the three that would suggest unambiguously the causes of their deaths. We assume instead that they sustained injuries that debilitated their bodies and that they died slowly," said Michaela Doernhoeferova from the Anthropology Department of Comenius University's Faculty of Natural Sciences. She said that some evidence suggested that Melchior Grodziecki was probably beheaded after death.
Church historian Peter Zubko said that an examination of the bones revealed the cruelty of the perpetrators. "It wasn't accidental death or spontaneous killing; instead, it was a deliberate [triple] murder that took quite a while," he said.
A major Protestant rebellion against the Habsburgs erupted in the Czech lands in 1619. It was joined by Lutherans in the Kingdom of Hungary, who called on Prince of Transylvania Gabriel Bethlen, also a Protestant, to become their leader. He sent a strong military force to the Kingdom of Hungary and conquered most of present-day Slovakia.
It was reported that leading Calvinist preacher Peter Alvinci of Kosice – at the time largely a Protestant city, with the local Gothic Saint Elizabeth Cathedral also in the Calvinists' hands – played a key role in the arrest and torture of the three Catholic missionaries, whom he viewed as rivals. Witnesses reported that Stephen Pongracz, for example, after refusing to abandon the Catholic Church, was hit twice in the head with an axe, but died as late as twenty hours later.
After they were killed, the bodies of the three priests were thrown in sewage, but they were later buried at a secret location with the permission of the city council. Six months later, their remains were dug up at the behest of a high-ranking noblewoman, and they eventually ended up in Trnava and Esztergom.
Mark Krizin (born in present-day Croatia), Melchior Grodziecki (of Polish origin) and Stephen Pongracz (from Transylvania, present-day Romania) were beatified by Pope and Saint Pius X in 1905 and later canonised by John Paul II in 1995.