Domestic Policies
Fico at Slavin Calls on Police to Intervene against Extremist Party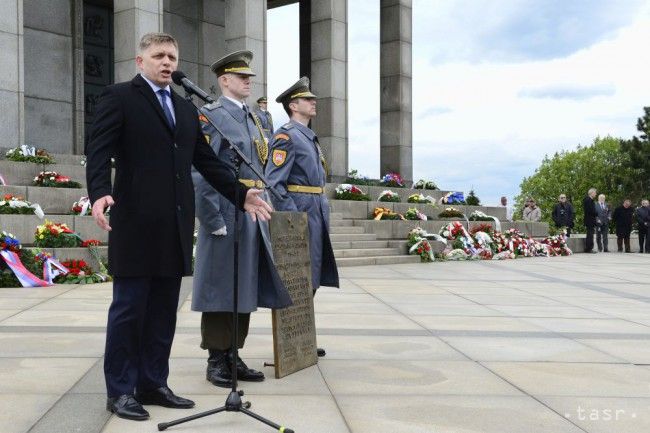 Bratislava, May 9 (TASR) – The law-enforcement authorities should take action as soon as possible to put a stop to displays of extremism perpetrated by a certain parliamentary party, Prime Minister Robert Fico (Smer-SD) said on Tuesday during a commemorative event at the Slavin war memorial marking the end of the WWII.
Fico noted that the chairman of the party in question has stated on TV that he has no opinion of the Holocaust, while another member of the party who was supposed to appear on a TV debate was accompanied by two armed guards, who were ostentatiously showing their guns. According to Fico, such behaviour resembles Adolf Hitler's trips around Germany in the 1930s in the company of members of the SA paramilitary organisation.
"I'm appealing on the law-enforcement authorities – take action, for God's sake, because if this is viewed as something normal and part of the freedom of speech, we're very wrong. This has nothing to do with democracy and values. The sooner we halt these displays, the better for this country," said Fico.
Apart from Fico, the event co-organised by the Russian Embassy was also attended by Parliamentary Chairman Andrej Danko (Slovak National Party/SNS), several Government ministers, MPs, senior officials of several embassies in Slovakia, military figures and Slovak and Russian WWII veterans.
Russian Ambassador Alexey Leonidovich Fedotov noted that 6,845 out of 63,512 Soviet soldiers who fell in Slovakia in WWII are buried at Slavin.
"It wouldn't have been possible to count on the liberation of Slovakia and other European countries from the brown plague without the heroism of Soviet soldiers and their comrades," stated Fedotov.