Domestic Policies
Fico: By Declaring Sovereignty We Showed Interest in Independent State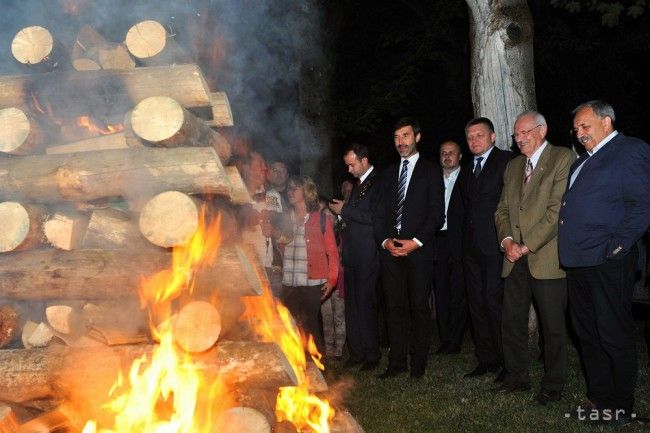 Stara Bystrica, July 16 (TASR) – By declaring the Slovak nation's sovereignty in the Slovak National Council (Slovak Parliament in erstwhile Czechoslovakia) in July, 1992, our nation expressed for the first time an interest in living as an independent country, which resulted in the Constitution adopted on September 1, 1992 and later in the creation of an independent state on January 1, 1993, stated Prime Minister Robert Fico (Smer-SD) on Saturday (July 15).
Marking the 25th anniversary of the Declaration of the Slovak Republic's Independence in the village of Stara Bystrica (Zilina region), Fico lit the bonfire of sovereignty and planted a lime tree in the Alley of Sovereignty.
"Sometimes we're viewed as pagans who walk around bonfires and light bonfires, but the bonfire has been a part of our history, either it was the Slovak National Uprising or [Slovak folk brigand] Janosik or anyone else. So, let's keep the beautiful things we have here. Lighting the bonfire of independence is the best symbol we can show to the Slovak nation," said the premier.
Fico went on to say that he's the only active politician holding a constitutional post who had the opportunity to vote for the Declaration of Sovereignty in 1992. "I'm proud of these traditions. I partly contributed towards the creation of the Slovak Republic, as I was responsible for publishing the Collection of Laws," he said, adding that he views the celebrations of sovereignty as an extremely important feast that cannot be forgotten.
Former president Ivan Gasparovic (2004-14), who also took part in the festivities, said that at the time of declaring sovereignty many people didn't believe in Slovakia. "They said that Slovakia couldn't exist on its own, it couldn't be sovereign and that it wouldn't last. … And now? Slovaks have achieved successes that can be envied by other countries. It's thanks to the fact that we have become an independent state and we manage it by ourselves," said Gasparovic.