Domestic Policies
Fico Ready to Give Testimony About Blackmail, Kiska Finished With Fico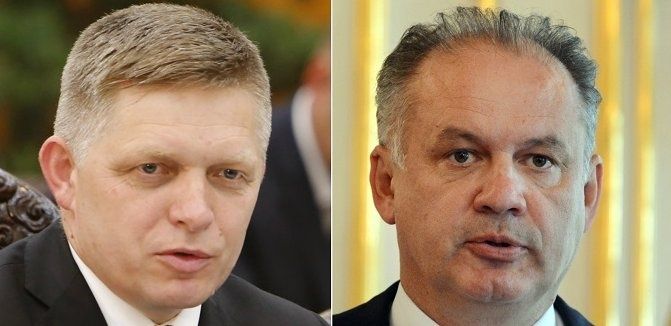 Bratislava, February 26 (TASR) – Smer-SD chairman Robert Fico is ready to give testimony about allegations of blackmail raised against him by President Andrej Kiska, TASR learnt on Tuesday.
Speaking at a press conference, Fico intimated that it wasn't him but President Kiska who attempted to influence law-enforcement bodies and reiterated his claim that Kiska lied about the financing of his 2014 presidential campaign. Fico is prepared to debate the financing of the campaign with Kiska on television.
Fico stated that he wants the investigation into the alleged blackmail to be conducted in the shortest time possible. "I'm ready to give testimony to a law-enforcement body immediately – I'm just waiting for a date," he said, adding that both the police and prosecutor's office unequivocally reject the notion that they were influenced by anyone into pressing charges against a representative of Kiska's firm KTAG.
The Smer-SD chair also asked whether the president should be examined by the police regarding the suspicion that he's influenced law-enforcement bodies. "A year ago, the media reported that Kiska had made inquiries about his case with the prosecutor-general three times in person, which many experts interpreted as an attempt to interfere in the investigation," stated Fico.
Fico insists that Kiska lied about the financing of his 2014 presidential campaign, and he called on him to show the public his March 2014 expenditures. "Then he should show the sum from which the firm applied for a VAT refund in April 2014, and we'll see that the amount was in all likelihood significantly larger than the whole legal spending cap of €250,000 for the presidential campaign in March 2014," he said.
The Smer-SD chairman pointed out that in 2017, when the "fraud committed by Kiska and KTAG came to light", the firm made 17 corrective tax declarations for 2013 and 2014. "My whole campaign was financed by Smer-SD with legal resources," added Fico.
In his response, President's spokesman Roman Krpelan claimed that Andrej Kiska is finished with MP Robert Fico (Smer-SD), and any further communication will be conducted strictly through lawyers and law-enforcement bodies.
"This isn't a reality show; this is about blackmailing the president. The president is finished with Mr. Fico. In an attempt to exact revenge for Kiska's decision not to appoint him to the post of Constitutional Court chairman, he [Fico] has crossed all lines of civilised behaviour," wrote Krpelan.
On Friday (February 22), Kiska stated that Fico attempted to blackmail and intimidate him in order to seek his own appointment to the helm of the Constitutional Court. Kiska is convinced that the criminal prosecution against a representative of Kiska's KTAG firm is Fico's revenge for Kiska's failure to appoint him to the bench. Fico rejects the accusation.
A KTAG representative identified due to legal reasons only as Eduard K. faces charges of obtaining illegitimate VAT refunds worth €155,633, which KTAG applied for from the state. KTAG bankrolled Kiska's 2014 presidential campaign and later listed the sum among expenditures in the books, a move the Tax Authority refused to accept.
Kiska served as the company's representative in the past, but he's immune from prosecution while in office as president.