Domestic Policies
Fico Signs Agreement on Third Gov't, But Sad about Attacks in Belgium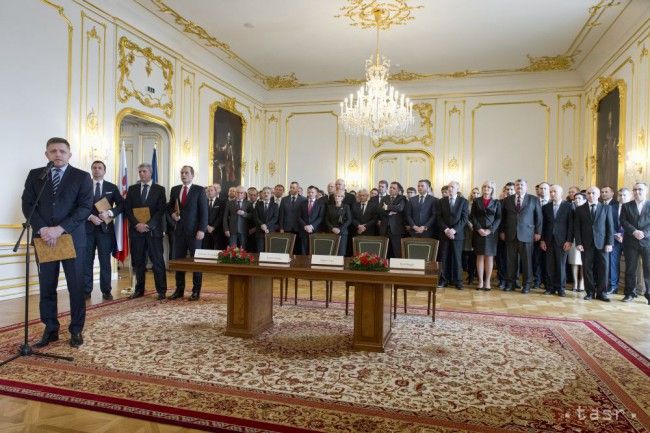 Bratislava, March 22 (TASR) – Prime Minister Robert Fico (Smer-SD), who on Tuesday signed a coalition agreement for a new government with the Slovak National Party (SNS), Most-Hid and Siet, said after the ceremony at Bratislava Castle that he was feeling deep sadness and concern, but also firm conviction.
"This important act [of signing the coalition agreement] took place in the shadow of tragic events. As prime minister I'm expressing my full solidarity with the Belgian prime minister [Charles Michel], as a citizen with all the Belgian people, and as a human being with all who lost their relatives and friends," said Fico in reference to the lethal bomb attacks in Brussels earlier in the day.
Fico also expressed concern over whether democratic regimes with their typical political correctness are able to deal with such issues. "Only strong and stable governments are able to react to such displays of terrorism. If we want Slovakia to continue doing well, we need elementary security and peace in the country," he said.
Turning more specifically to domestic issues, Fico said that he's sad about what's happening in Slovakia. "The new government hasn't even emerged yet, and the media and opposition MPs are already full of hate, accusations and threats. I'm not asking for support, I merely want to see respect, because we're just doing something that's based on the results of the general election. There's no other alternative – apart from chaos, an undemocratic caretaker government and a pointless snap election. Our course of action is democratic and standard," he said.
"I wish to continue in the atmosphere in which we began our coalition talks, with mutual understanding and deep compromises. I'll do everything possible to see responsibility, understanding and compromises adorn the new government, as well," added Fico.