Foreign Policies
Globsec 2023 Bratislava Forum to Be Dominated by War in Ukraine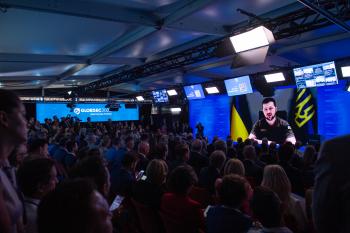 Bratislava, May 23 (TASR) - The Globsec 2023 Bratislava Forum will focus heavily on the war in Ukraine, its impacts on Europe and global dialogue, with overcoming global instability being the main theme of the event, Globsec president Robert Vass reported at a press conference on Tuesday.
The forum will take place in Bratislava on May 29-31, and it's expected to be attended by 1,300 guests from 63 countries. "We'll welcome ten premiers and presidents, twenty ministers of foreign affairs, defence and digitisation, as well as leaders of international institutions and other important guests," said Vass.
The list of invited leaders includes French President Emmanuel Macron, European Commission head Ursula von der Leyen, European Parliament chair Roberta Metsola and Serbian President Aleksandar Vucic. A delegation from Ukraine is also expected to attend. Slovakia will be represented at the event by President Zuzana Caputova and several ministers.
Vass noted that the conference was prepared in a difficult period, at a time of an unstable internal political situation, division in society, as well as the war in Ukraine, which has disturbed the global order and balance. The event was prepared in close cooperation with the Czech Republic and Austria.