Foreign Policies
Kiska Calls on North Korea to End Development of Weapons of Mass Destruction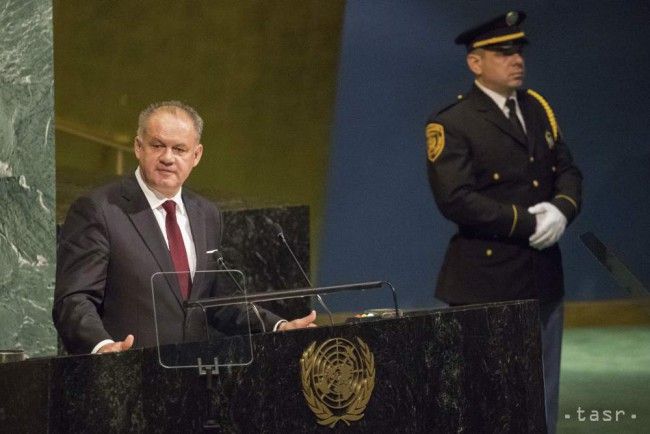 New York/Bratislava, September 19 (TASR-correspondent) – The world is currently facing one of the worst threats to international peace and security, as North Korea openly threatens the world with nuclear weapons, stated Slovak President Andrej Kiska in his speech on Tuesday.
Speaking at the 72nd session of the UN General Assembly in New York, the Slovak head of state added that such a serious disrespect to human life on the part of North Korea can't be tolerated.
"I strongly call on the North Korean regime to terminate its development of weapons of mass destruction and return on the path of dialogue and peace-building in the Korean Peninsula," said Kiska in response to North Korean recent missile tests that have led to a significant escalation of tension within international relations.
The Slovak president went on to say that there is another huge challenge that the humankind will have to address in the very near future – the climate change.
According to Kiska, the Paris Climate Agreement, which was adopted last year as part of Slovakia's Presidency of the Council of the EU, could be understood as an effort of the present generation to mitigate the consequences of people's impact on the environment.
"No money, no short-term economic interests could possibly compensate the irreparable damage if we fail to act together and change our irresponsible behaviour. The price of such planetary ignorance will be much higher than any we have ever paid," he said.
Furthermore, Kiska in his speech spoke about the need of UN reform. He said that there are currently many pressing issues in the world that had not been foreseen when the UN was created. However, it'd be naive to think that just by applying the same old procedures it's possible to address unforeseen troubles and achieve new results, he added. "We need, as every organisation, to adapt. I strongly believe we are capable of such adaptation," he said, urging the leaders to act responsibly.
Earlier in the day President of the 72nd session of the UN General Assembly Miroslav Lajcak opened the session's general debate in New York. In addition to Kiska, American President Donald Trump and French President Emmanuel Macron also delivered their speeches.