Domestic Policies
Kiska: Snap Election or Major Changes in Cabinet Needed after Reporter's Murder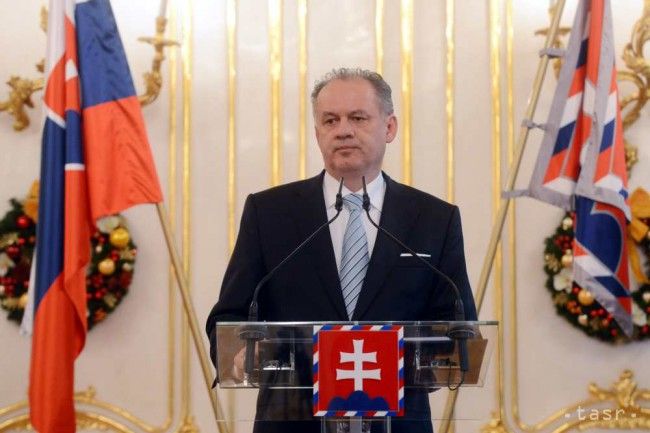 Bratislava, March 4 (TASR) – An overhaul of the Cabinet that wouldn't polarise society and would gain support in Parliament or an early general election is what's necessary to resolve the political situation in Slovakia after the murder of investigative journalist Jan Kuciak and his girlfriend, said President Andrej Kiska in an extraordinary speech on Sunday.

Stating that a snap election would be considered "the most natural solution in many democratic countries", Kiska said that it would be possible to organise this efficiently alongside the municipal elections in November.
To that effect, Kiska plans to launch talks with the leaders of political parties in the next few days.
"I've spoken in person with Prime Minister Robert Fico [Smer-SD] on possible solutions to the serious political crisis. Unfortunately, it's emerged that our perceptions and opinions on possible solutions differ," said Kiska, adding that he therefore decided to deliver his speech earlier than in the evening as planned, partly given the fact that Fico and Parliamentary Chairman Andrej Danko (Slovak National Party/SNS) subsequently announced their own televised speeches in the evening as well.
"The last thing needed by our society in this tense situation is a political spectacle put on by the top constitutional officials on TV," said Kiska.
Referring to the rallies organised for Kuciak in dozens of locations in Slovakia and abroad on Friday, Kiska – who himself attended a march in Bratislava – said that he witnessed sadness and a desire to see the perpetrators brought to justice.
"Nevertheless, I also felt from the people a determination to begin a demanding, perhaps painful, but necessary process so that it would again be possible to trust the state, its officials and its capability to protect us and secure justice," said Kiska.
"Many people don't trust the law-enforcement authorities, many due to their own personal experience, and their mistrust is justified. A line has been crossed, and there's no way back. We've reached a moment at which we can feel the arrogance of power," said the president.
"I believe that this case is being dealt with by the best investigators and that they want to solve the murders of the two young people. As Slovakia's president I want to ask everyone: Let's trust them at this moment," stated Kiska.
According to the president, even if the double murder wasn't related to the investigative journalist's work, many people in Slovakia believe that the crime somehow reflects the reality in the country.
"This is a terrible advert for the condition of our republic after 25 years of its existence.
There's something bad under the surface, something bad in the very foundations of the state," added Kiska.
Following Kiska's speech, Danko also announced that he'll hold his own speech earlier than planned.