Domestic Policies
Kiska: We Must Oppose Evil and Oust Fascist from Banska Bystrica Office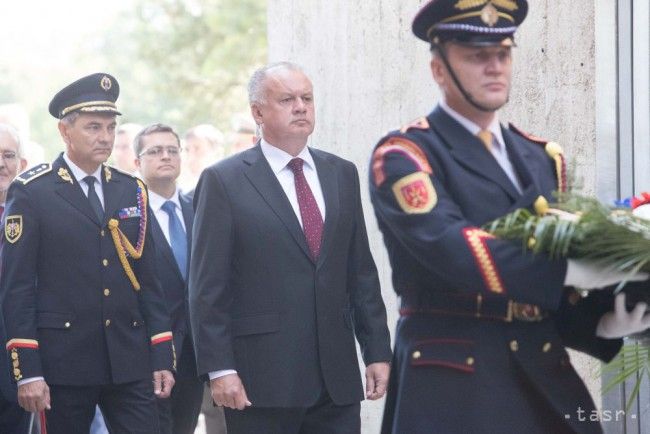 Banska Bystrica August 29 (TASR) – Our duty is to do more than commemorate the courage of our ancestors and lay flowers in their memory once a year, stated President Andrej Kiska in Banska Bystrica on Tuesday in his speech during the main ceremony marking the 73rd anniversary of the Slovak National Uprising (SNP).
Kiska added that Slovakia should do more in this regard, especially at a time at which followers of Nazi and fascist ideologies are spreading throughout the country.
"On this day 73 years ago brave men and courageous women opposed the occupiers as well as the domestic puppet regime that faithfully served Nazi and fascist ideologies," said the president, who went on to say that despite the fact that one of the biggest anti-fascist resistance movements in Europe during WWII was eventually suppressed by the enemy, the country didn't lose its self-esteem.
"I thank the representatives of countries whose natives fought in the SNP along with our grandfathers and grandmothers … As Slovakia's president, I personally pay homage to the SNP participants who decided to attend the ceremonial event today," said Kiska.
In addition, the head of state in his speech drew attention to the upcoming regional elections due to take place in November. He said that this year's regional elections could become the elections in which Slovakia stands up against an ideology of evil and "drives a fascist away from the Banska Bystrica Office and rejects his candidates in Nitra and other regions". [Incumbent Banska Bystrica region governor Marian Kotleba heads the far-right People's Party Our Slovakia (LSNS). – ed. note]
"Nowadays, we don't have to confront the enemy with a weapon in our hands or face military superiority. It's enough to act as true citizens, go to the polling stations in November and vote for a non-fascist candidate. There are more of us, and we can beat them," said the president.