Culture
Mourners Celebrate Life and Work of Lucnica Maestro Stefan Nosal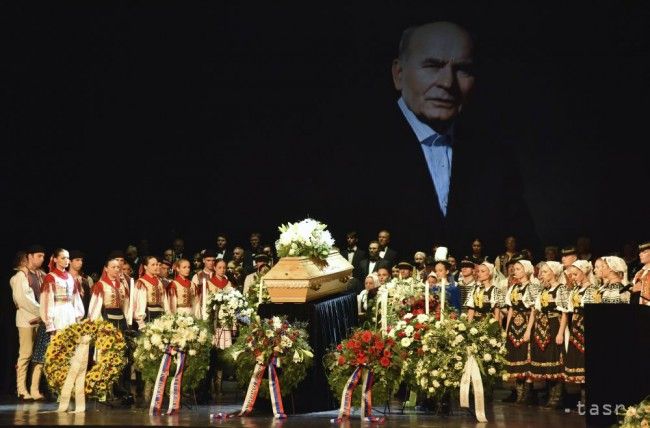 Bratislava, July 28 (TASR) – A large congregation of mourners turned up in the old building of the Slovak National Theatre (SND) on Friday to salute and pay their last respects to Slovak folklore maestro Stefan Nosal, who died last Saturday, TASR learnt later on Friday.
Nosal, who devoted his whole professional life to the Lucnica folklore ensemble as its choreographer and artistic director, died on Saturday aged 90.
Hours before the official ceremony in the SND's old building, which was specially decorated for the occasion, admirers from among the general public had the chance to bid their final farewells.
Attended by relatives, as well as President Andrej Kiska and a host of other public figures, the ceremony itself also featured speeches by Lucnica's general director Marian Turner and fellow prominent figure of the troupe Viliam J. Gruska.
Turner recognised the vast range of activities that Nosal was devoted to as an artist and teacher. He praised his professional and personal mission in Lucnica and paid homage to the value that Nosal created.
"Through his art, he showcased Slovakia and its original culture on all inhabited continents of this planet in a way unmatched by any other artist before," said Turner.
"Nosal's life and work embody a character, moral authority and attitude that earned him the admiration and respect of others," he said.
"He epitomised humility, tenacity, dedication and professionalism," said Turner, before speaking highly of Nosal's sense of humour and ability to see things in perspective.
"Hardly anyone else has lived such a fulfilled, rich and meaningful life as Professor Stefan Nosal," he added.
Gruska praised the artistic value of Nosal's legacy for the Slovak past and future folk arts, calling Nosal's choreography the flagship and beacon of Slovak folklore. "There's much that has become iconic thanks to you and your artistry," he said, adding that Nosal's work is an integral part of Slovakia's cultural heritage.
"You remain with us and in us," he said in reference to the attachment between Nosal and Lucnica.
The Slovak Folklore Union declared July 28 a Day of National Mourning of Slovak Folklore.
Born in Hrinova (Banska Bystrica region) on January 20, 1927, Nosal received a degree in civil engineering in Bratislava in 1953 before going on to study dance choreography.
A Lucnica dancer as of 1949, he was appointed as the ensemble's artistic director and choreographer a mere two years later. He created over 100 dancing compositions and a number of feature, thematic compositions during his prolific career. He also had a long career as a professor at the Academy of Performing Arts (VSMU) in Bratislava.
The nearly 70 years that Nosal led Lucnica artistically is viewed as a unique feat worldwide. Lucnica started off as a troupe of young enthusiasts from the Zivena Society in 1948.