Crime & Justice
MP Osusky Summoned by Police to Explain Why He Slapped Vasky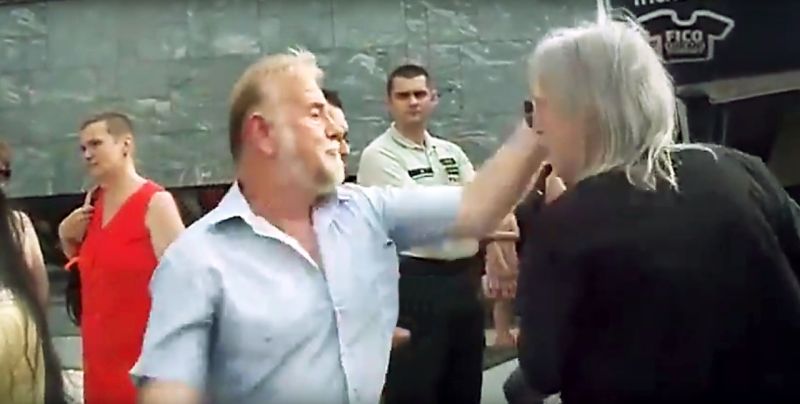 Bratislava, July 13 (TASR) – MP Peter Osusky (Freedom and Solidarity/SaS) was summoned by police on Wednesday to explain why he slapped internet video-blogger Rudolf Vasky, who posts videos on YouTube full of profanities and calls for a the start of a revolution, TASR learnt on Wednesday.
In his videos, Vasky often calls politicians "scumbags" or "fascist bastards" who should be "offed". It was this very label that angered Osusky during the protest against Smer-SD leaders organised by the Opposition in Bratislava on Monday (July 11) for the fourth Monday in a row.
"The adjective 'fascist' was the cause of this slap, which I view as instructive in nature. I was politely approached by the investigator, so I'll provide an explanation," said Osusky, who often speaks against totalitarian regimes in Parliament. The 61-year-old MP hasn't yet taken any further steps against Vasky and claimed that the next course of action will depend solely on Vasky. "I never start anything first, but I don't intend to turn the other cheek."
Osusky believes that police or the prosecutor's office should deal with Vasky, even without any complaint being filed. "The content disseminated by Vasky represents the contamination of society. Law enforcement bodies should take notice," Osusky told TASR. In one of the videos, Vasky treats Osusky to gross profanities and claims that Osusky's brain "will splash on the face of his wife".
Liberal MP Martin Poliacik (SaS), also called a "fascist bastard" by Vasky, echoed the sentiment. "Vasky's escapades should be the subject of criminal prosecution. It's not acceptable to have such behaviour go unpunished. I hope he realises himself where the limits are," Poliacik posted on his Facebook page after the slap in the face.