Domestic Policies
Plavcan Only Minister to Appear at Children's Question Time in House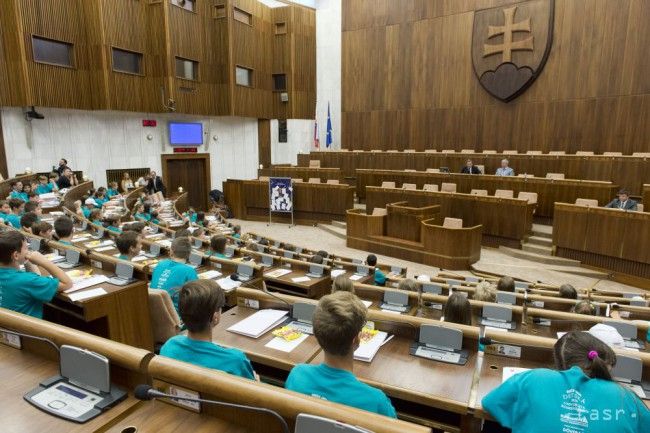 Bratislava, August 30 (TASR) – MPs were replaced in the parliamentary chamber for an hour by children from Comenius Children's University on Monday who interrogated Government members at a special Question Time.
Question Time, also called Question Hour, ordinarily provides scope for MPs to approach Cabinet members with their questions, but this time only one member of the Government actually appeared – Education, Science, Research and Sport Minister Peter Plavcan. The obvious reason was an away-session of the Government scheduled for the afternoon at the very opposite end of the country – in Vranov nad Toplou (Presov region). In the past at least a few ministers have always been present at the children's Question Time, sometimes even including the prime minister. Plavcan said that he sent the ministry's State Secretary Peter Krajnak to represent him in Vranov.
The children seemed to be happy with the Question Time, although they said that they would have liked to have seen more ministers. Apart from Plavcan, Parliamentary Chairman Andrej Danko and Parliamentary Vice-chair Bela Bugar were ready to answer their questions.
"I expected that more ministers would come. I was here last year as well, and [Interior Minister Robert] Kalinak was there, and the ministers of education and finance," said a boy who introduced himself as Richard. "They should have come here, or at least they should have sent [Prime Minister Robert] Fico, that would have been enough for me," he added.
Fico announced the away-session of the Cabinet in the East on August 17, while the children's Question Time was announced earlier. According to TASR's information, several ministers originally planned to talk to the children in Parliament, but they eventually had to scrap these plans.
A boy called Viktor asked Plavcan why it's necessary to have the letter 'y' in the Slovak language. "We don't need to have it, but it's part of our cultural heritage," replied Plavcan.