Military
Slovakia Felt Horrors of Air War for First Time 75 Years Ago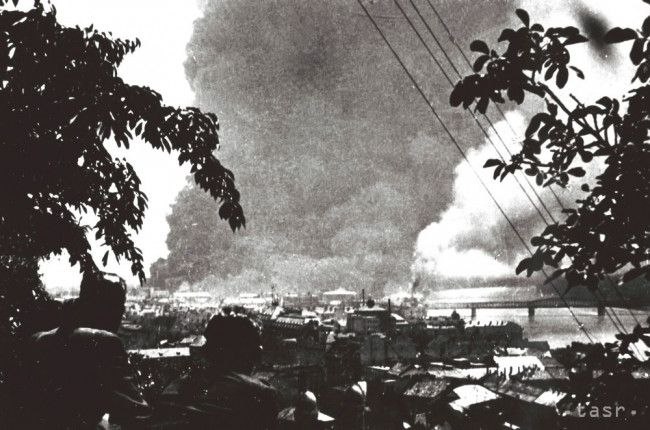 Bratislava, June 16 (TASR) – It was 75 years on Sunday that the US air force carried out its first bombing raid on Bratislava, which caused major material damage and a considerable number of deaths, TASR has been told by deputy director of the Military History Institute Peter Sumichrast.

After the air raid, which took place on June 16, 1944, Bratislava hospitals treated 585 people, and 717 people were declared missing. Data on the casualties vary. Various sources set the number of those killed at 300, while according to Civil Air Defence of the wartime Slovak republic, the number of deaths exceeded 770.
"The flight of the American bombers began shortly before six o'clock, when four-engine B-24 Liberator bombers began taking off from Lecce air base in southern Italy," said Sumichrast.
The main target of the raid was the Apollo oil refinery by the Danube River, which contributed as much as 1.3 percent of Germany's supplies. According to American intelligence, it ranked among the top ten oil producers in Central Europe.
The mass American formation consisted of 168 bombers, of which more than 150 after four hours in the air attacked the Bratislava refinery, the Winter Harbour and the General M.R. Stefanik Bridge over the Danube River. For the first time in World War II, Slovakia's civilian population felt for themselves the horrors of an air war. According to historical records, the first wave of bombers dropped their deadly load at 11 minutes past 10.
"American pilots dropped on Bratislava a total of 369 tonnes of bombs, which, in addition to the Apollo refinery, hit the Winter Harbour, where they sank 15 boats, the building of today's Slovak National Museum by the Danube River as well as other buildings in the broader city centre and the borough of Petrzalka," said Sumichrast.