Economy
State to Help Trnava-based Carmarker with Labour Requalification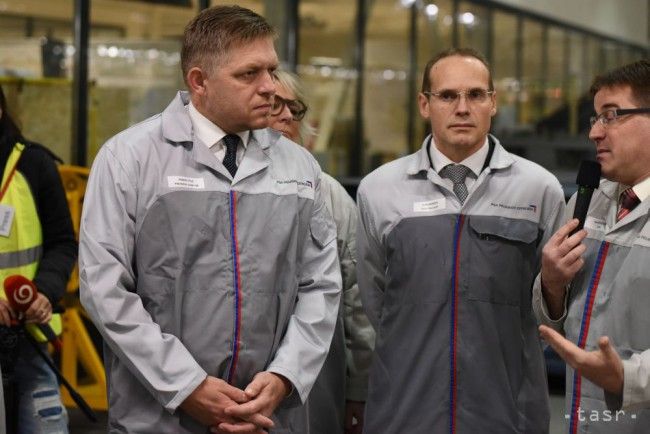 Trnava, November 18 (TASR) – Prime Minister Robert Fico (Smer-SD) along with Labour, Social Affairs and the Family Minister Jan Richter (Smer-SD) and Labour, Social Affairs and the Family Centre (UPSVaR) general director Marian Valentovic on Friday discussed possibilities for supporting employment with representatives of Trnava-based carmarker PSA Groupe Slovakia, TASR learnt on the same day.
The plant needs more than 800 workers for its new fourth shift system that is set to be introduced in early 2017. To this end, the premier suggested that the requalification of some 200 long-term unemployed could be financed by the state.
"We dealt with the acute issues on the Slovak labour market at the meeting," said Fico, adding that Trnava region as well as western Slovakia are beginning to observe a lack of labour.
"That's why we're offering tailor-made cooperation. We will do our best to ensure that the company will receive enough workers for its intentions," said the prime minister, noting that in addition to requalifying some 200 long-term unemployed, the carmaker will be able to participate in various recruitment processes across Slovakia.
"We're meeting the carmaker halfway, but at the same time we don't in any case prefer this carmaker to other car manufacturers operating in Slovakia," said Fico, adding that he considers PSA Groupe as a strategic partner and expects the plant to offer its employees beneficial social programmes.
According to Richter, if it fails to hire enough Slovaks, the carmaker will be able to employ labour from abroad. Some 300 workers from Serbia and Romania have already been working at the Trnava-based carmaker.
Regarding the planned requalification of the 200 unemployed, Richter said that they should be trained directly at the plant for three months and the state requires that at least 180 of them will subsequently receive a job at the plant.
"Around one third of the number required for opening the fourth shift has been met. The shift will be gradually launched as of January, while in March we expect to be fully staffed," said Groupe PSA Human Resources Head Lubomir Kollar, adding that there are no threats preventing the fourth shift system from being launched.