Crime & Justice
Three People Injured in Wake of Bratislava Shooting, Including Teen Girl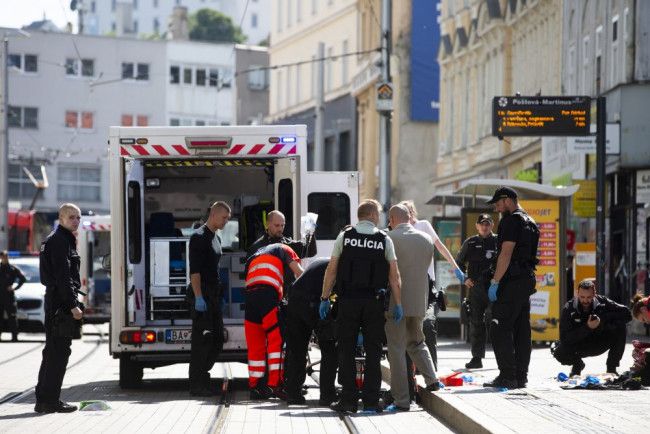 Bratislava, May 31 (TASR) – The number of injured in the wake of the Friday's shooting in the Bratislava Old Town reported by authorities rose to three people, including a 15-year-old schoolgirl, TASR learnt on the same day.
"One of the men is in critical condition and medically induced coma, whereas the other man was conscious during hospital transport," TASR was told by Emergency Health Service Operational Centre spokesperson Alena Krcova.
The incident began in front of the Finance Ministry at Stefanicova street, when the attacker attempted to force his way into the guarded ministry building. "Directly in front of the ministry, the attacker stabbed a member of the Financial Administration with a knife. Our colleague has been hospitalised and, fortunately, conscious, as verified in the hospital by Finance Minister Ladislav Kamenicky and Financial Administration President Lenka Wittenbergerova in person," claimed Financial Administration spokesperson Ivana Skokanova.
Armed with the knife, the attacker subsequently made his way to bustling Obchodna shopping street. His aggressive behaviour was reported to police.
"The man threatened passers-by, including those who were following him and recording him with mobile phone cameras. The nearest police patrol approached him. The man continued issuing threats, swinging his knife. He was dangerous to everyone around him and police officers, which is why the patrol crew used service guns," the police reported on its social network page.
Once shot, the man stabbed himself in the abdomen with his own knife.
Police claimed that their intervention was conducted in a way ensuring public safety, but conceded that the random passer-by, the 15-year-old girl, was accidentally shot as well. According to TASR information, she will undergo surgery. "Her injury is light and the manner in which it was inflicted is being investigated. That's why the course of action employed by the officers will be looked into by the Interior Ministry's Internal Affairs," reads the post.
The motive behind the man's attack is not known at this stage.
Tram services on the shopping street were suspended for hours due to the police cordon.