Education
Zurich: Kiska Visits One of Best Technology Universities in World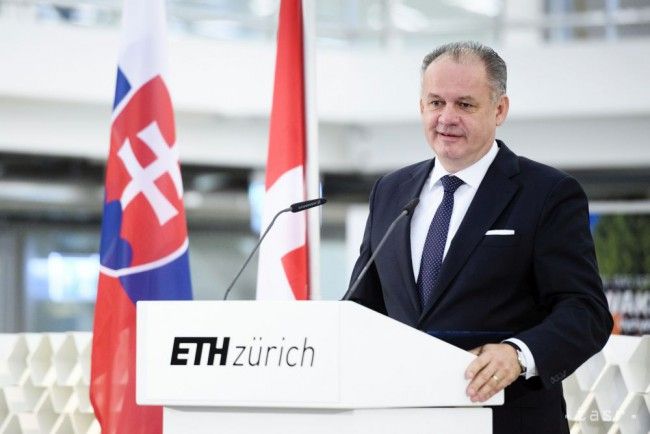 Zurich/Bratislava, October 21 (TASR) – Slovakia has to change its university education system and focus on its quality, said Slovak President Andrej Kiska while taking a tour of the Swiss Federal Institute of Technology (ETH) in Zurich on Friday.
ETH was founded 161 years ago and currently has over 19,000 students. It's also in the top ten of the world's best technological universities. There are around 50 Slovaks teaching or studying at this university. "I'm very glad that even our professors and students are making their way at this university. They show that we have immensely capable people. I was also pleased to hear that one of the fathers of the university was Aurel Stodola – Slovak native who had been working here for a long time and laid ground for some disciplines," noted Kiska.
Informatics professor Juraj Hromkovic has been paying forward his knowledge at the university for almost 13 years. "It's a pleasure to teach here, because people who come here are aware that the only way to succeed is to work hard. All are very talented," he said.
Hromkovic stated that science these days works like football. "If you want to have a good team and a top-notch university, you have to have good players. You'll get them only if you have enough money, not only for salaries but also for infrastructure that would provide these people with services in order for them to focus on their jobs effectively. These are the criteria that decides who comes here," he added.
ETH President Lino Guzzella pointed out that 96 percent of university graduates will find a job within a year. "Here we have everything from engineering to the most complicated branches of physics. If you're a mathematician it's mostly about theory, but a mechanical engineer also gets a lot of practical work. We try to give students a lot of freedom, because we believe that intelligent people need the space for growth and self-expression," he noted.
Kiska stated that Slovak secondary schools generate plenty of talented and well-prepared students but this evaporates at the university level. He added that not a single Slovak university belongs to the top 500 universities in the world.
"The system of financing that is based on the number of students is absolutely unsuitable. A system that provides high quality universities with the same amount of money as those universities that practically shouldn't exist is very poor. We're only redistributing the resources and we're not focusing on the quality. These are things we have to change," stressed Kiska.
Kiska is still to meet Swiss President Johann Niklaus Schneider-Ammann During in Bern during his official two-day visit to Switzerland.