Miscellaneous
Bus Crash Near Nitra Claims at Least Twelve Lives, Including Four Minors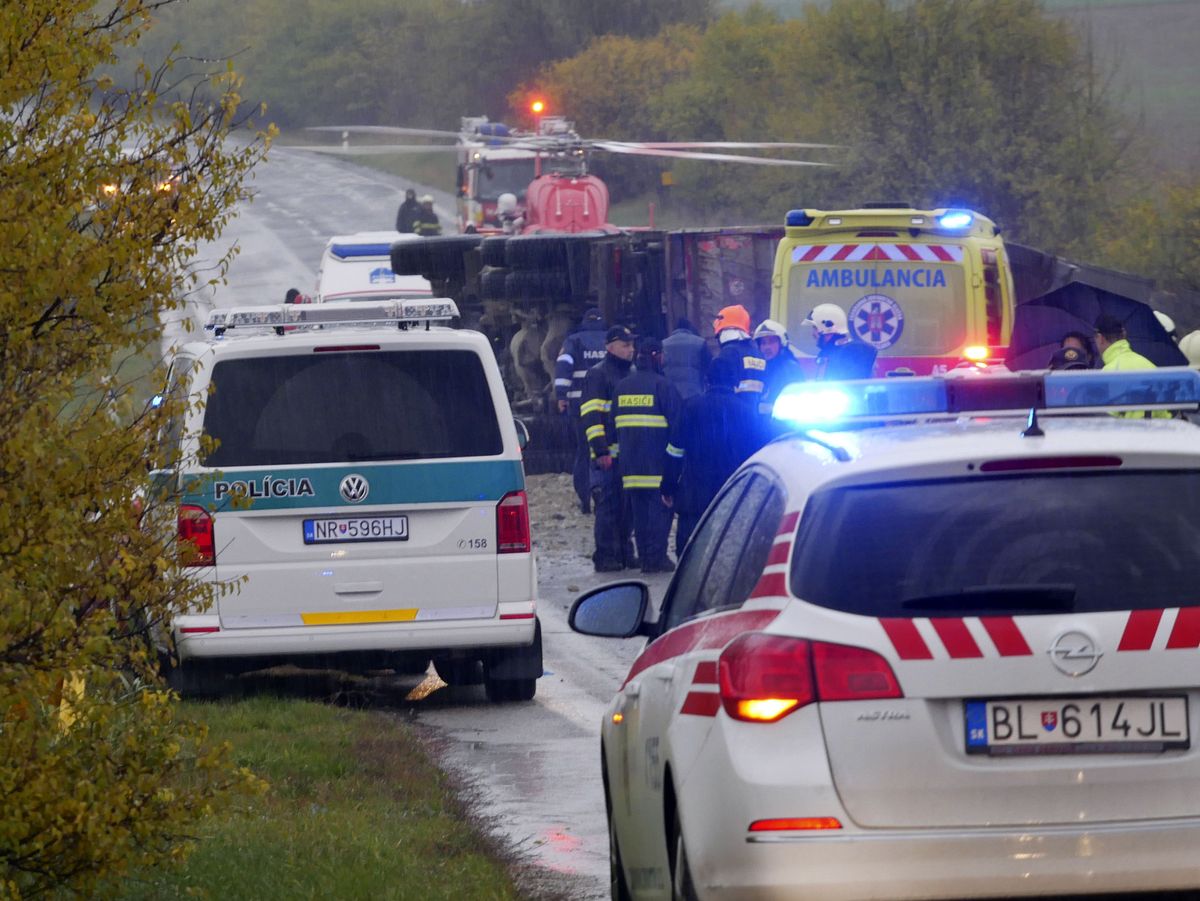 Nitra, November 13 (TASR) – At least twelve people, including four minors, were killed in a crash involving a bus and a lorry near Nitra on Wednesday afternoon, with another 17 people being injured, ministers of interior and health, Denisa Sakova and Andrea Kalavska, respectively, told journalists near the scene.

The bus on the Nitra-Jelenec route was carrying many students returning home from schools in Nitra. Both drivers were injured in the accident.
"A total of 30 fire-fighters from Nitra, Trnava, Bratislava and Banska Bystrica regions are on the scene. There are four fire-fighter ambulance cars and 15 police officers," said Sakova.
Kalavska added that three out of the 17 injured suffered serious injuries, but their lives were not in peril at the time of the press briefing. "One of them is undergoing an operation at this moment," she said.
Two paramedic helicopters and seven paramedic ambulances, apart from the fire-fighter ones, intervened on the scene. The injured were taken to hospitals in Nitra, Nove Zamky, Topolcany and Levice (all Nitra region). Kalavska said that the hospitals are dealing well with the onrush of patients.
While the bus, which ended up in a ditch after a side crash by the lorry on a lightly curved road, was being lifted by fire-fighters, Sakova conceded that further dead people could be found there. "If so, it would be the worst accident in Slovakia's history since Polomka," said Sakova. She was referring to a crash involving a bus and a train in Polomka (Banska Bystrica region) ten years ago, which claimed the lives of twelve people.
President Zuzana Caputova on Wednesday expressed deep sorrow the fatal traffic accident.
"The news on the crash of the bus with a lorry with such tragic consequences has caused deep sorrow in all of us. We're in our thoughts in these moments with parents who've lost their children, their dear and close ones. We're also thinking about the injured to see that they get the best assistance and care possible. We all hope that the number of killed won't continue rising," said Caputova in a statement provided to TASR by her spokesman Martin Strizinec.
"After this terrible tragedy, I ask everyone to drive carefully and with consideration, so that we can all return safely to our families," added Caputova.
Prime Minister Peter Pellegrini (Smer-SD) decided to return early from a visit to Cyprus in response to the fatal bus crash, saying that he was "immensely sorry" to hear the news, according to his spokesperson Patricia Macikova.
"A terrible accident took place today near Nitra. I immediately terminated my official visit to Cyprus in order to return to Slovakia, to the scene of the tragedy," said the prime minister. He added that he's already discussed the issue with the ministers of interior and health, Denisa Sakova and Andrea Kalavska, respectively.
"I feel immense sorrow for all the victims and I'm expressing my deep sympathy to all the bereaved," said the prime minister.
The prime minister also said that he was considering to declare a day of national mourning.