Miscellaneous
SHMU: Orava Sees Minus 35.3 Degrees Celsius on Sunday Morning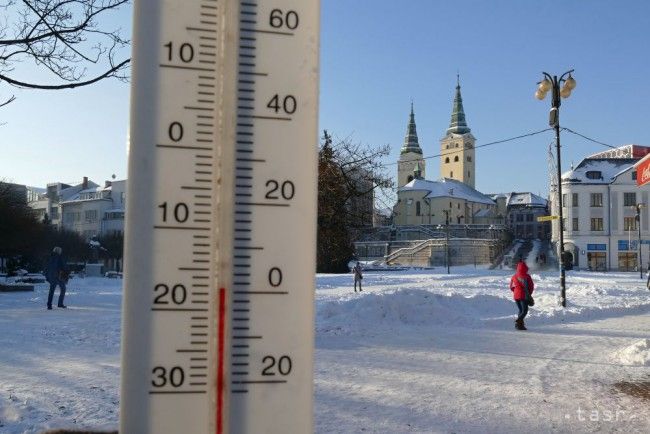 Bratislava/Dudince/Nitra, January 8 (TASR) – Meteorologists in the spa town of Dudince (Nitra region) on Sunday morning measured minus 29.8 degrees Celsius, its lowest temperature since the 1950s, when official records began to be kept, Slovak Hydrometeorolical Institute's (SHMU) meteorologist Paulina Valova told TASR on Sunday.
Historical record lows for January 8 were also seen in the traditional region of Orava (Zilina region), which is known for cold weather. Oravska Lesna recorded minus 35.3 degrees Celsius, while Liesek had minus 29.9 degrees Celsius. Meanwhile, Poprad, which is below the High Tatra Mountains, saw minus 24.6 degrees Celsius.
"Apart from Dudince, all the records apply only for January 8. Dudince has recorded an absolute record, however," said Valova.
The extremely low temperatures in Slovakia are due to an incursion of Arctic air combined with the presence of snow cover in most of Slovakia.
Meteorologists expect that temperatures in Slovakia should also fall below minus 20 degrees Celsius during the next few nights, but temperatures below minus 30 degrees shouldn't reoccur. A relatively more pronounced warming is expected for Thursday.
One person died in Nitra as a result of the current cold weather trend in recent days, the police announced on Sunday.
A frozen homeless person was found on the holiday of Epiphany (Friday) at the track and field stadium in the borough of Chrenova.
"It was a homeless person who died as result of the frost, and not any other person's fault. The person's identity still isn't known," said Nitra regional police directorate spokesperson Bozena Bruchterova.
Meanwhile, another person is in critical condition. The man fell from his wheelchair and remained lying on the ground. "Fortunately, he was rescued in time and nothing more serious happened to him," said Bruchterova.
Town police are patrolling the streets of Nitra to help people in need, said Lubos Ziman of the Nitra town police operational centre.
"If necessary, we're able to help with hot tea and guide the affected persons to a shelter. However, almost no homeless persons currently appear in the town. They have their lurking places to wait out such cold weather," said Ziman.
Shelters for the homeless are pretty much crowded these days. "The capacity of the shelter has been surpassed, but we'll accept anyone who comes … Even people under the influence of alcohol can spend the night there and get some food; the only requirement is that they mustn't be aggressive," said Juraj Barat, director of the St. Raphael Charity House.