Foreign Policies
Danko and Schulz: National and European Parliaments Should Deepen Cooperation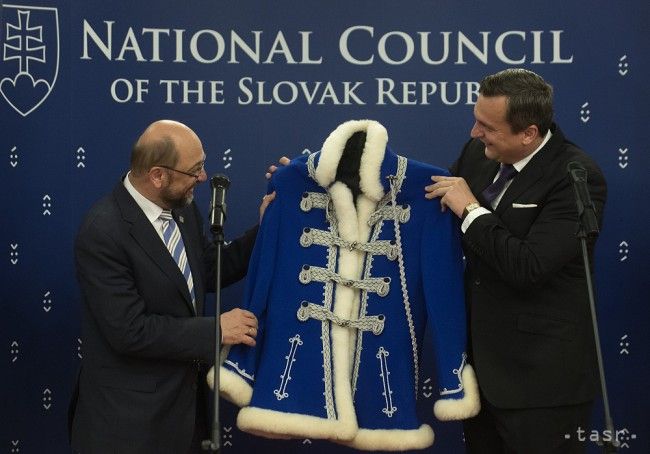 Bratislava, October 6 (TASR) – National parliaments and the European Parliament should deepen their cooperation, concurred Slovak Parliamentary Chairman Andrej Danko (Slovak National Party/SNS) and European Parliament President Martin Schulz who opened a two-day informal summit of parliamentary chairmen from EU countries with their joint statement on Thursday evening.
The event initiated by Danko should help partners to get to know each other better, overcome differences and improve cooperation among parliaments. "It provides a floor for informal discussions between parliamentary chairmen. We will introduce to you our nation, ethnic minorities, songs and traditions in order to know each other better and to overcome all wiles that the EU must cope with," Danko told a news conference, adding that he wished the parliamentary chairmen would meet more often.
Danko informed Schulz that the Slovak Parliament should soon adopt an amendment to the rules of procedure that will enable MEPs to take a floor in the national parliament. "We, Slovaks and our ethnic minorities, are serious about our participation in the EU," stressed Danko.
Schulz praised the aforementioned change in the rules of procedure. "It is important to get the European message and ideas to the national level. Therefore, we welcome the initiative that will enable MEPs to speak in the national parliament," said Schulz, noting that this is already a practice in Austria. He stressed a need for more intense cooperation than there has been in the past. Therefore, he appreciated the fact that the summit of parliamentary chairmen is taking place.
In the end, Danko gave a personal gift to Schulz – a historical coat that is a part of the uniform of Parliament's Guard of Honour. The two officials will not join the remaining parliamentary chairman for a common dinner. At the dinner Danko wants to present Slovak traditions, food, wines and regions to his counterparts.
The working part of the summit (on October 7) will focus on challenges the EU is currently facing. Parliamentary chairmen should discuss current problems involving European unity and overcoming the distance between the EU and its citizens. They should also touch on the issues of the EU's internal cohesion and a globally engaged Europe.