Military
Defence Ministry Eyeing US-made Oshkosh JLTV Armoured Vehicles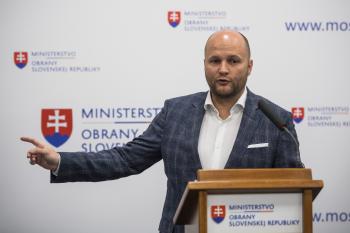 Bratislava, March 29 (TASR) - Interim Defence Minister Jaroslav Nad reported at a press conference on Wednesday that his ministry would like to make use of a €200-million grant from the USA to procure more than one hundred and eighty Oshkosh 4x4 JLTV armoured vehicles, claiming that Slovakia is waiting for an official offer from Washington.
According to Nad, these vehicles could begin to arrive in the country as early as next year. The grant would also be used to procure anti-drone systems and 5,000 M4 carbines. The Defence Ministry, however, would like to purchase almost 20,000 additional assault rifles.
As the conference on Wednesday was focused mainly on evaluating the past year at the Defence Ministry, Nad stated that even though 2022 was about modernasition, it was first and foremost marked by the war in Ukraine. The minister reiterated that helping Ukraine is in Slovakia's interests. On a related note, the minister claimed that Germany is set to donate a MANTIS air-defence system to Slovakia in 2023.
The minister maintained that almost 37 percent of defence spending was used on modernisation last year. "This year, defence spending will exceed 2 percent of GDP," Nad announced. At the same time, he claimed that Hungary is very likely to join the protection of Slovakia's airspace in the summer.