Foreign Policies
Fico: I Don't Want Conflict with Kiska; Some Things Don't Need Saying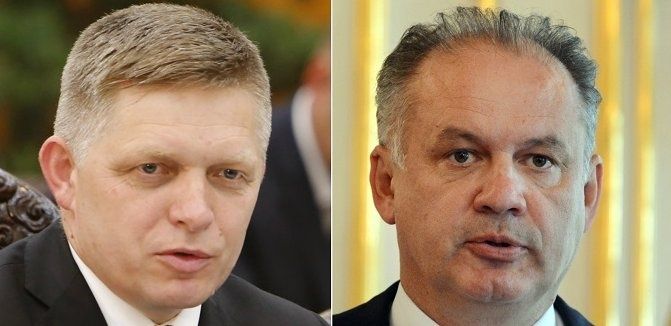 Bratislava, November 6 (TASR) – Everyone would welcome it if a conflict between the Slovak president and prime minister emerged, but I don't want that, stated Premier Robert Fico (Smer-SD) in the Latvian capital Riga on Saturday, TASR learnt on Sunday.
"I don't want such a conflict. These questions should be addressed to someone else, not to me," he said when asked whether the reason behind the cancellation of a bilateral meeting with Chinese officials in Riga on Saturday was the recent meeting between Slovak President Andrej Kiska and Tibetan spiritual leader the Dalai Lama. Fico recently criticised the meeting, saying that it could lead to a worsening in Slovak-Chinese relations.
The Slovak premier on Saturday took part in the fifth meeting of Heads of Government of Central and Eastern European Countries and China in Riga. Before the meeting, however, the Slovak Government Office reported that the Chinese side had cancelled originally planned bilateral talks.
Fico noted that even though the planned bilateral meeting with the Chinese officials on Saturday didn't take place, Slovak and Chinese representatives managed to see eye to eye. "I personally invited the Chinese premier [Li Keqiang] to visit Slovakia," he said, adding that this invitation was accepted.
The Slovak premier also stated that he doesn't want to fight with anyone and wants to maintain good relations with other constitutional officials. However, Fico added that certain things don't need commentary. As an example, he mentioned that two economic missions that should have brought direct contacts with important Chinese entrepreneurs were recently cancelled. Moreover, cooperation with a major Chinese fund has been frozen recently.
"It's a pity. We'll have to make a significant political effort to bring relations back to where they used to be," said the Slovak premier, adding that the strengthening of Slovak-Chinese relations was one of the main reasons for his visit to Riga.
According to Fico, top constitutional officials have to work together on behalf of Slovakia's national interests. He mentioned the period of conflict between late former president Michal Kovac (1930-2016) and then prime minister Vladimir Meciar in the 1990s. "What is that good for? Who needs that? No one will drag me into any conflict with the president. If necessary, I'll describe certain decisions plainly, but I won't get into a conflict."