Foreign Policies
Fico Invites Netanyahu to Slovakia, Visit Possible as Early as September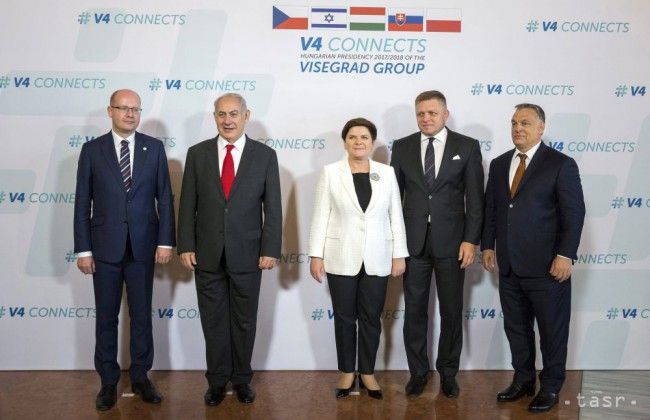 Budapest/Bratislava, July 19 (TASR-correspondent) – Slovak Prime Minister Robert Fico has invited his Israeli counterpart Benjamin Netanyahu to visit Slovakia in order to discuss issues such as collaboration in innovations, the car industry, military modernisation and measures targeted against fascist ideas, TASR learnt in Budapest on Wednesday.
Fico met Netanyahu for bilateral talks some 30 minutes after a joint meeting of the Slovak, Czech, Hungarian and Polish prime ministers (within the Visegrad Four/V4 format) with Netanyahu earlier in the day.
Fico also said that the Israeli official had taken him up on his offer, stating that he'll visit Slovakia as soon as possible.
"My offer was September 9, when Slovakia marks its Memorial Day for the Victims of the Holocaust and Racial Violence. He was intrigued by this date, and I'll be happy to receive him on that day. Either way, I hope that this important visit will take place in the autumn," said Fico.
Fico went on to elaborate on the areas singled out for potentially closer ties.
"Israel has offered to host people from Slovakia who work in innovations, start-ups, because Israel is top of the world in this. An agreement to this end will be signed between the V4 and Israel, and, possibly soon, a group of skilled people from Slovakia will need to be sent there," said Fico, adding that Israel would welcome Slovak mathematicians operating in the IT industry.
The second area affording potential for closer links is car manufacturing, which is where Slovakia is, to a certain measure, a global power. Israel is launching support for firms developing tech innovations for the automotive industry.
Military modernisation was also found to offer scope for establishing closer ties. "There's no denying that Slovakia will need to enhance its military capabilities further. Some things will need to be replaced, and the whole world knows that Israel is the very best when it comes to certain military technologies, so we'll speak to them on collaboration in this regard where possible," said the Slovak official.
Fico and Netanyahu also discussed other issues, notably Slovakia's future in the EU and the need to counteract forces that seek to rekindle the ideas of the Slovak wartime state (1939-45).