Domestic Policies
PS, Together, KDH and For the People Want to Replace 'Kocner's Generation'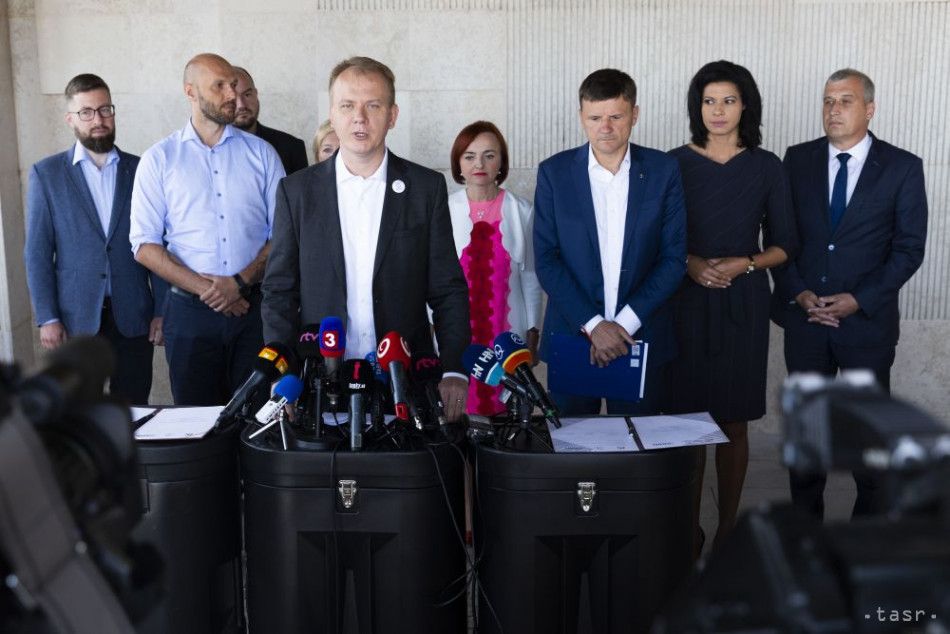 Bratislava, August 16 (TASR) – Progressive Slovakia (PS), Together, the Christian Democratic Movement (KDH) and the emerging For the People party on Friday signed a joint declaration in which they committed themselves to doing their utmost to cut ties between the police, prosecutors, the judiciary and people connected to criminal networks.
The parties also declared that they will cooperate in order to bring about change and replace what they refer to as 'Kocner's generation of politicians'.
If they form part of the government following the next general election, the parties promise that the new government's priority will be for state security forces to act freely. "We guarantee that the police will never act in favour of those suspected of serious crimes or misuse their position in relation to ordinary citizens, journalists or politicians," reads the declaration.
PS leader Michal Truban said that the parties want to show the public their will to fight for their trust and bring about change and to do their best to eliminate all ties between the old oligarchs and old politicians and prosecutors, the police and judiciary.
Together leader Miroslav Beblavy stated that a system has ruled in Slovakia in the past couple of years in which "our own people" are able to arrange anything and commit the worst crimes with impunity. "We must change this," he said, stressing the need to introduce deep changes in the systems of the judiciary, prosecution and police, and in the way in which the state intervenes in the economy.
"I'd like to encourage investigators, prosecutors, judges and everyone involved in investigating crime at the moment not to be afraid. You have the support of the whole of society to clean up Slovakia. It's up to you until the next general election," said Beblavy.
KDH leader Alojz Hlina is glad that an alternative is emerging. However, it will be attacked very strongly, he said. Ex-president and leader of the emerging For the People party Andrej Kiska stated that links between governing power, criminals and oligarchs are being reflected in Slovakia. "It's a terrible feeling, and following the information that has been leaked I think that every single person can form their own opinion on the state in which this country finds itself," stated Kiska.
Truban claimed that other parties can cooperate with them as well, such as Freedom and Solidarity (SaS). "Each party, including SaS, has a congress. We'll see how it turns out, and our further discussions will be derived from this," he said. Asked whether they don't mind the meetings that took place between [SaS leader] Richard Sulik and charged businessman Marian K. in the past, Truban said that they don't view SaS as "Kocner's generation of politicians" and that Sulik must bear the responsibility for those meetings himself.