Culture
Teachers on Strike Buoy Their Cause by Forming Human Chains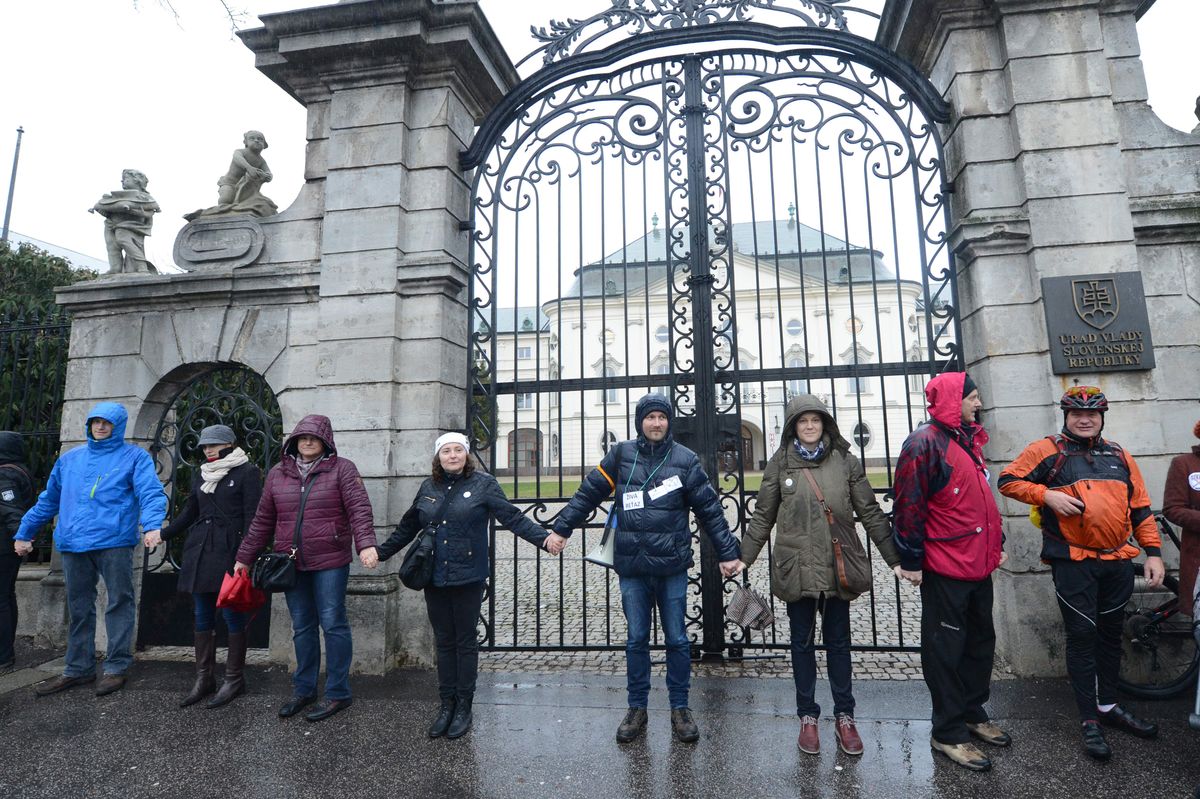 Bratislava/Kosice, February 1 (TASR) – The teachers who have joined the ongoing strike under the umbrella of the Slovak Teachers' Initiative (ISU), joined by supporters of their cause, formed human chains in a number of Slovak cities and towns including Bratislava and Kosice on Monday, TASR learnt on the same day.
In Bratislava, the chain made up of some 2,000 people began outside Government Office, went along Presidential Palace, continuing on Stefanikova Street before coming full circle to Government Office again.
"We're fighting for there still to be teachers in 10 years' time, for something to change in the education sector, for the sector to take a turn for quality and for pupils to benefit from a high-quality education sector, which is vital for the well-being of our society and our entire future," said ISU's Vladimir Crmoman.
He added that events like this are taking place in 14 cities and towns.
"This is a Slovakia-wide rally. We're seeking to push our case not only to the community of teachers, but also to parents, in order to win this battle," said Juraj Kolesar, the organiser of a similar event in Kosice, which drew some 250 people – including parents of pupils and supporters from the general public.
He stopped short, however, of assessing the fact that the number of Kosice-based teachers on strike has dwindled from 165 last week to 94 educators on strike on Monday. Four primary schools under the remit of the city's authorities are involved in the strike as of Monday. "It's a mid-school year holiday today. We'll know all figures on Tuesday," said Kolesar, referring to the day off that Slovak students get the after their report was received. Nevertheless, he expressed his conviction that the strike won't fizzle out.
"Some sort of restart will occur, because voices are being heard from other regions and areas now, such as Presov, Michalovce, Trebisov and even Spisska Nova Ves," said Kolesar.
Teachers brought together in ISU launched a wildcat strike on January 25. ISU is calling for increases in the salaries of all teachers and other professional employees in regional education by €140 per month as of 2016 and by an additional €90 as of 2017. It also demands an increase in the budget amount reserved for education.
According to ISU, 9,080 teachers from 693 schools are subscribed to the strike as of Monday 4.20 p.m. There are 89,000 teachers country-wide, working at 2,935 pre-schools, 2,113 primary schools and 868 secondary schools.