Domestic Policies
Thousands Gather in Protests Across Slovakia to Commemorate Jan Kuciak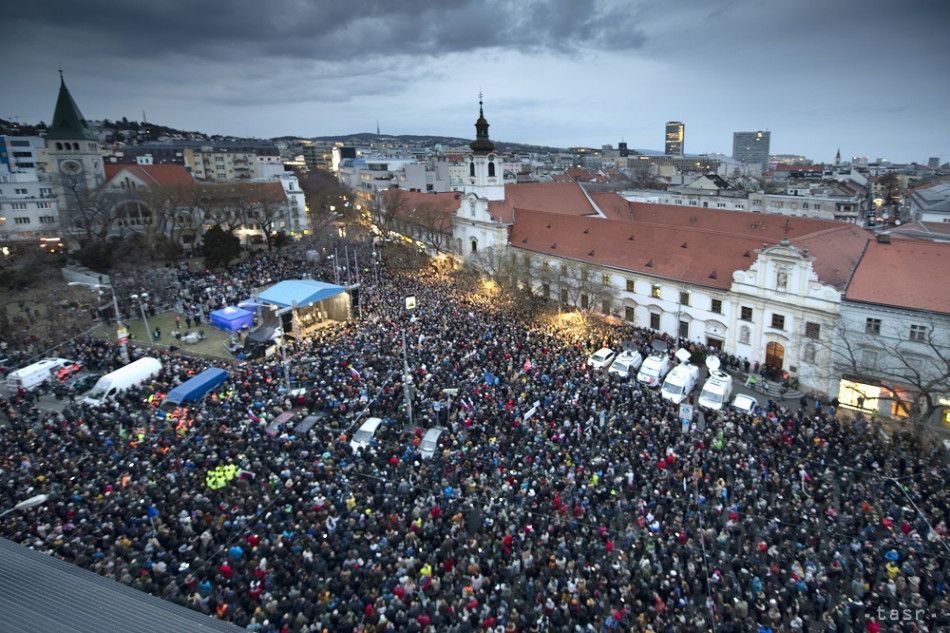 Bratislava, February 21 (TASR) – 'We won't forget and we're not going anywhere' was the motto of a protest gathering in the heart of Bratislava on Thursday, as a throng of about 30,000 gathered in SNP Square to commemorate the one year-anniversary since the murders of journalist Jan Kuciak and his fiancee Martina Kusnirova.
The crowd called for an independent investigation into the murders, resignations of Parliamentary Chair Andrej Danko (Slovak National Party/SNS) and Special Prosecutor Dusan Kovacik as well as the complete retirement of Smer-SD leader Robert Fico from public life. The protesters also blamed Most-Hid chair Bela Bugar for keeping the current governing coalition afloat and turning his back on them.
"This is not just about the murders of Jan and Martina, but also about the fact that their deaths and everything that happened in 2018 and 2019 in the country tore down the curtain. Now it's exposed for us to see how politicians are capable of abusing their power, how they clinch deals with shady individuals and how the country is being pillaged and plundered," Juraj Seliga of the 'For Decent Slovakia' initiative told TASR.
Seliga underlined that people flocked to the squares in Bratislava and other cities in order to demonstrate that the public still longs for a decent and just country.
Addressing the crowds were actors, church and NGO representatives, musicians, representatives of media as well as discontented farmers, who are holding a protest this week in Bratislava.
Also delivering a speech was Jan Kuciak's father, Jozef. He criticised politicians of the governing coalition, claiming that the saddest revelation of all is that Jan was under surveillance by former secret service agents and was screened in police databases. "The protests cannot cease when they discover the name of the person who ordered the hit. This is because something has created that individual, some environment that made him feel beyond the reach of law," he later told the media.
Thousands gathered for similar protests also in 36 other cities and towns, including Banska Bystrica, Trencin, Nitra, Trnava and Zilina in Slovakia, and at Prague and Brno in the Czech Republic.