Sport
Zvolen Ultras Riot at Ice Hockey Game in Hungary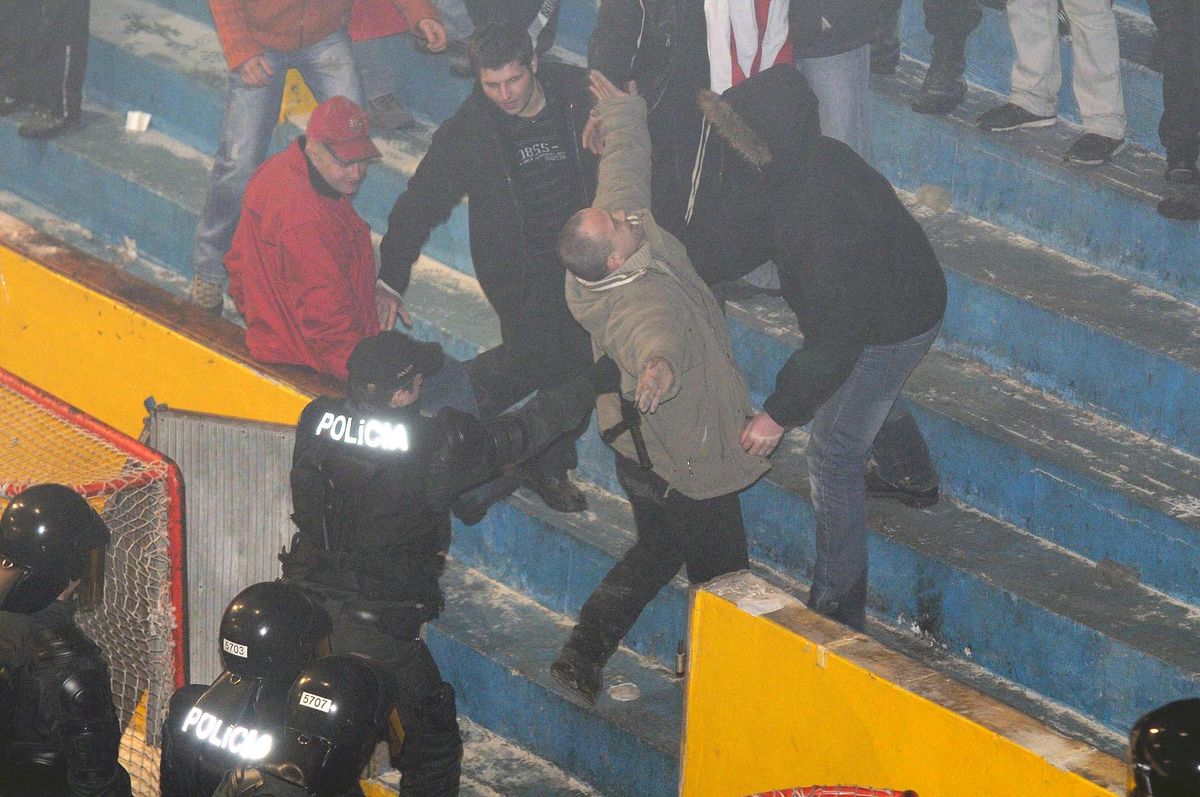 Miskolc/Zvolen, September 22 (TASR) – An ice hockey game between DVTK Jegesmedvek Miskolc and HKM Zvolen (0-5) in Slovakia's ice-hockey premier league Tipsport Liga, which for the first time ever also features two Hungarian teams, was disrupted in Miskolc, Hungary on Friday by riots involving masked hooligans present in the Zvolen fan sector.

Members of the Ultras Zvolen group, who had masked their faces with scarves, tore down a barrier separating them from the home fans and began beating them. The police were called to intervene and the start of the third period of the game had to be postponed.
"There were some 200 fans aged around 20 wearing black shirts in the Zvolen sector. Some 10 or 15 of them began brawling with the security service, they invaded the neighbouring zone, where children, women and the elderly were also present, and began kicking them. The security service didn't react properly, as it hadn't dealt with such a situation before. We had to wait for the police to intervene. Until their arrival, the away-side fans kept kicking and punching everyone who happened to be nearby. The police cleared out the away-side sector before long. They're now asking people to provide video recordings of the incident in order to be able to launch investigation," a home fan, Oliver Ban, wrote on a social network.
"I was at the stadium with my three-year old daughter, so you can imagine how I'm feeling now. I'm finally at home, but there were people who got kicked to their heads, there was blood, everything … This wasn't a hockey game, but a war. This happened when the away-side had a 4-0 lead. I don't understand this," he added.
Zvolen coach Andrej Podkonicky apologised for the incident at a press conference following the match and the HKM Zvolen leadership held an extraordinary meeting on Saturday. In an official release, it condemned the riots, pointing out that they were perpetrated by a group that isn't the team's official fan club.
"Our club distances itself and strongly condemns the hooligan behaviour and riots by this group, which has shamed not only our club, but also all decent fans in Slovakia. We apologise to Miskolc fans and we ensure everyone that we'll introduce stricter entrance conditions for such persons at events organised by HKM, which has zero tolerance for violence and discrimination," stated HKM Zvolen, adding that the ultras group will be banned from Zvolen matches with immediate effect.
Meanwhile, HKM Zvolen stated that it will fully cooperate with the Hungarian police in identifying and punishing the rioters.
Ultras Zvolen in a later statement on Facebook said that while it didn't want to get rid of all responsibility, some of the home fans were also partly to blame.
"In the first two periods, during which we were supporting our team decently, perhaps few people noticed constant provocation by home fans located next to our sector, which was separated from them only by a wobbly banister … We asked our fans several times during the game not to react to the groups of home fans. We can't reverse the events that have taken place, but we ask people who weren't at the match that they shouldn't comment on things about which they haven't been properly informed and they shouldn't condemn people based on mere speculation," added Ultras Zvolen.