Domestic Policies
4-Party Coalition Ends, State to Be Led by Smer-SD, SNS and Most-Hid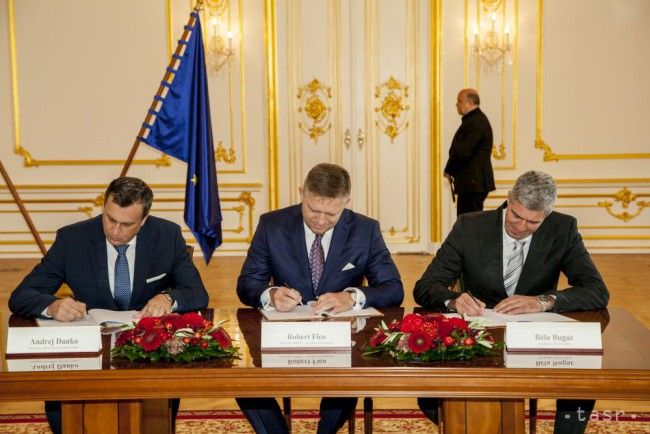 Bratislava, September 1 (TASR) – Leaders of the political parties of Smer-SD, the Slovak National Party (SNS) and Most-Hid – Robert Fico, Andrej Danko and Bela Bugar respectively – have signed new Coalition Agreement at Bratislava Castle on Thursday, TASR learnt on the same day.
According to it, the Coalition has been narrowed from a foursome to a threesome, leaving the Siet (Network) party out.
The shifts in the governing Coalition are the result of the departure of five MPs from Siet – Andrej Hrnciar, Eduard Adamcik, Katarina Csefalvayova, Martin Fedor and Igor Janckulik – and their admission by Most-Hid into its caucus. The predominantly ethnic-Hungarian party has thereby levelled its roster of caucus members with SNS – 15. Siet is left with only two MPs – Alena Basistova and Radoslav Prochazka.
The leaders state that the Coalition still has 81 MPs that support the Government Manifesto, so it's counting on Prochazka and Basistova.
Moreover, transfers of the MPs also meant that Siet lost its only Ministry it had, as Roman Brecely – a Siet appointment who was not an MP – was removed from the post of Transport, Construction and Regional Development Minister and replaced by ministry state secretary Arpad Ersek (Most-Hid). Ersek was appointed to his post by President Andrej Kiska on Wednesday (August 31). The posts of Siet's state secretaries at other ministries were divided between Most-Hid and SNS.
Smer-SD, SNS, Most-Hid and Siet signed the original Coalition Agreement on March 22, 2016 – 17 days after the general election.