Domestic Policies
Fico: Meciar Amnesties' Scrapping Moves Slovak Politics to New Level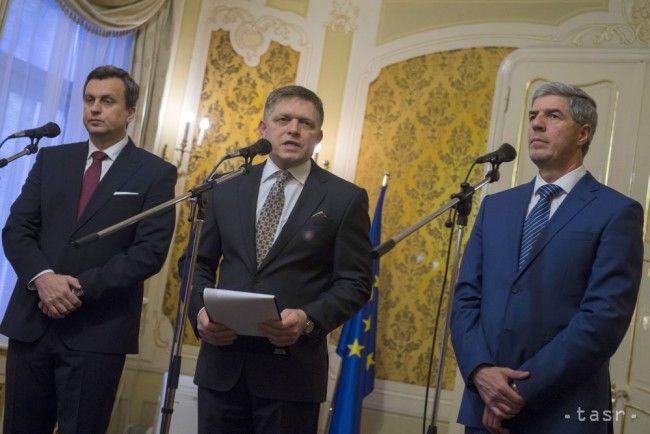 Bratislava, April 5 (TASR) – Wednesday's parliamentary vote on scrapping the so-called Meciar amnesties is extraordinarily important in terms of forming a political culture, Prime Minister Robert Fico (Smer-SD) said on the Cabinet Office's premises on Wednesday.
Leaders of the governing coalition parties presented their positions on the current events in Parliament, which should result in a vote on adopting the resolution to scrap the amnesties issued by Vladimir Meciar as acting president in 1998, as well as the pardon granted by ex-president Michal Kovac to his son. The vote is scheduled for 5 p.m. on Wednesday.
Fico said this step might be a signal that there are issues going above the framework of the coalition-Opposition fight. He expressed thanks for the constructive cooperation of his coalition partners and welcomed the constructive position of the Opposition that "abandoned an ideological stance and took a professional and matter-of-fact approach to the Government's proposal".
Fico sees the expected abrogation of the Meciar amnesties and Kovac's pardon as a chance to move the quality of political and societal awareness to a new level. "It's up to us whether this is a lonely shout, or whether it turns into a positive trend in Slovak politics," said the prime minister, adding that he finds this step to be one of the most important taken by the coalition over the past 12 months.
SNS leader and Parliamentary Chairman Andrej Danko (Slovak National Party/SNS) said that a historical event is happening for Slovakia which will help the country cope with the difficult period of the 90s. "None of us caused it, it was a huge trauma; however, good politicians unite people rather than dividing them, and they seek compromises," said Danko.
The parliamentary chief also praised the Opposition, saying that the political races as to who is better have stopped for the moment. He stressed that today's step would not be possible without having changed the Slovak Constitution. The way the Opposition wanted to scrap Meciar amnesties would have only brought legal chaos, stated Danko.
"As a governing coalition we did it being convinced there's a need to do so, as we owe it to the citizens, even though we did not cause it," said leader of the third coalition party Most-Hid Bela Bugar while explaining their motivation. He believes that the Constitutional Court will confirm Parliament's resolution.
MPs have been discussing the resolution that should scrap the Meciar amnesties since the morning on Wednesday. An amendment to the Slovak Constitution enables them to do so. It was recently approved by Parliament and published in the Law Collection on Tuesday (April 4). Ninety MP votes are necessary to pass the resolution. The Constitutional Court has yet to review the resolution. It will have 60 days to do so.